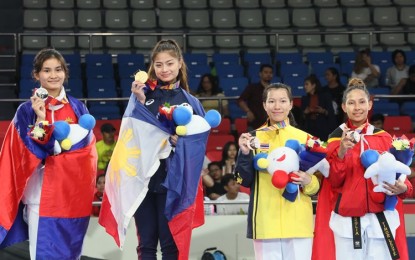 MANILA -- Kurt Bryan Barbosa scored a masterful 26-10 win over Reinaldy Atmanegara of Indonesia to rule the finweight division and give the Philippines its eighth gold medal Monday at the close of taekwondo action in the 30th Southeast Asian Games at the Ninoy Aquino Stadium here.
Barbosa, 20, the reigning rookie-MVP of the University Athletic Association of the Philippines, attacked the Indonesian with successive left kicks to the body to take an early 12-3 lead en route to winning the host team's last gold in the 22-event, three-day battle.
Another Filipino, Rheza Aragon failed in her bid for the gold, bowing to Thailand's Wongpattanakit Panipak 2-35 and settled for silver in the flyweight category.
At the end of the competition, the Philippines led the 10-nation battle with 8 gold and 9 silver medals, followed by Vietnam (4-2-5) and Thailand (3-3-5). Cambodia, Indonesia, and Malaysia had one gold apiece.
The Philippines' performance was its best so far, surpassing the country's 2-3-4 output in 2017 in Kuala Lumpur, Malaysia, where Thailand reigned supreme with a 6-1-1 harvest and a vast improvement on its 5-5-1 haul when the games were held here in 2005.
Rodolfo Reyes Jr. of Dasmarinas, Cavite emerged as the most bemedaled Filipino jin with two gold medals – the individual gold in the men's poomsae recognized event and the gold in the men's poomsae recognized team competition along with Dustin Jacob Mella and Raphael Enrico Mella.
The other gold medalists for the Philippines were Jeordan Dominguez in men's poomsae freestyle, Jocel Lyn Ninobla in the women's poomsae recognized individual, Dave Cea in men's kyorugi 74kg, Samuel Morrison in men's kyorugi 80kg and Pauline Lopez in women's kyorugi 57kg. (PNA)