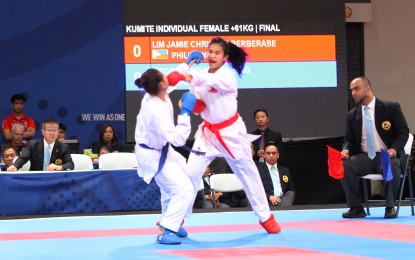 MANILA – Filipino boxers punched their way to seven gold medals in the 30th Southeast Asian Games on Monday, highlighted by a sensational first-round stoppage scored by Eumir Felix Marcial over his Vietnamese foe.
World women's champion Nesthy Petecio bannered the Filipino pugs' campaign, winning the gold in the 57-kg class (featherweight) with a 5-0 shutout of Nwe Ni Oo of Myanmar at the PICC Forum.
Also winning gold medals were Carlo Paalam (light-flyweight), Rogen Ladon (flyweight), Josie Gabuco (women's light-flyweight), James Palicte (light-welterweight), Charly Suarez (lightweight), and Marcial (middleweight).
In all, the Filipinos topped seven of 13 events at stake to win the overall title.
Thailand accounted for five golds while the other gold was won by Vietnam.
Marcial, the silver medal winner in the last AIBA World Championships, provided the highlight of the night, winning the 75kg class (middleweight) with a first-round knockout of Vietnamese Manh Cuong Nguyen.
The 24-year-old native of Zamboanga initially staggered Nguyen with a solid left before delivering the coup de grace, a crunching left to the body that had the Vietnamese haplessly going down to the canvas.
Paalam got the Philippine boxing medal machine going with a 5-0 win over Kornelis Kwangu Langu of Indonesia, followed by a similar 5-0 thrashing scored by Ladon on Ammarit Yaodam of Thailand. Palicte also outclassed Van Hai Nguyen of Vietnam 5-0.
Former world champion Gabuco was the other lady gold medal winner for Team Philippines, whipping Endang of Indonesia 5-0.
Three other Filipinos – Irish Magno, Riza Pasuit, and Marion Pianar – settled for silver medals.
Magno lost to Thi Tam Nguyen of Vietnam 1-4, while Pasuit and Pianar lost by similar 5-0 scores against Thais Sudaporn Seesondee and Wuttiochai Masuk, respectively.
Meanwhile, Jamie Christine Lim delivered the second gold for the Philippines at the close of karatedo action at the World Trade Center in Pasay City.
Lim, daughter of pro basketball legend Samboy Lim, ruled the +61kg kumite with a 2-1 win over Ceyco Zefanya of Indonesia, her first gold medal in the biennial meet just five months after she rejoined the national team.
The 21-year-old karateka was away from the sport for four years to focus on her studies. Last July, she finished her Bachelor of Science in Mathematics degree at the University of the Philippines, graduating summa cum laude.
"I worked super hard for this. I stopped for four years to concentrate on academics," said Lim.
"I fought against the odds because my opponents were full-time athletes. I only trained full time for five months. But I did my work, worked hard every day, no shortcuts. I wanted it so much," she added.
Lim, who scored wins against Audrey Japyus Malaysia 7-3 in the quarterfinals and Thi Thao Bui of Vietnam 5-1 in the semifinals, offered her triumph to her parents.
"Summa cum laude is for mom, SEA Games gold for dad. I can't believe that both of them happened this year, 2019 is so perfect for me. I'm just so grateful, I'm grateful," she said.
"I look up to my mom and dad so much. To even come close to him, as in to be compared to him and to mom, it's so big for me. Today is just so special for me. I feel happy."
Lim joined Junna Tsukii as the other gold medalist for the karatedo national team after the latter ruled the -50 kumite women's division.
The Philippines collected 12 more golds from athletics, kickboxing, squash, windsurfing, jiujitsu, archery, and sailing as the runaway leader in the medal tally improved further its total medal haul to 344 – 136 golds, 102 silvers and 106 bronzes.
The Filipino athletes' performance in the penultimate date of the 10-day competition also surpassed the country's performance in the 2005 SEA Games where the Philippines won the overall title with 112 golds, 85 silvers and 95 bronzes.
Thailand scooped an additional 27 golds on Monday that put them in second place with 84 golds, 90 silvers, and 102 bronze medals. Vietnam is now in the third spot with 79-78-93 tally while Indonesia skidded to fourth place with 69-76-102 medals.
Malaysia, overall champion of the SEA Games it hosted in 2017, is running fifth with 51-52-67 followed by Singapore's 50-43-59.
With only 51 gold medals left at stake on the final day of competition on Tuesday, the Philippines is already assured of its second overall SEA Games title. (PNA)


.