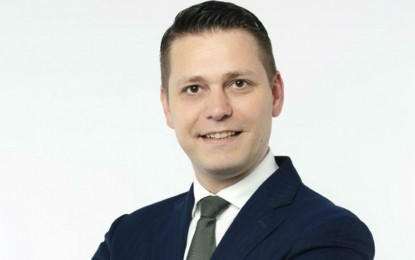 BRUSSELS, Belgium – Expressing concern over reports about international funding to communist-linked organizations in the Philippines, a member of the European Union (EU) Parliament vowed to help the Philippine government put a stop to the flow of financial support.
"I intend to make a dialogue with the Belgium government about the international financial transferring of money. We will have a great picture on where the money is coming from and to which organization it goes and which, should I say, violate the law," said Tom Vandrendriesshe, in a meeting here with a Philippine delegation from the National Commission on Indigenous Peoples (NCIP) on Dec. 4.
Vandrendriesshe, who is a member of the Vlaams Belang National Party and Identity and Democracy Group, said as part of the delegation for relations with the countries of Southeast Asia and the Association of Southeast Asian Nations (ASEAN), he is happy to help the Philippines.
"My party is a right-wing party so we advocate democracy and freedom of speech, free enterprise. We are also an anti-communist party and have a long tradition of defending regional identities in different countries. We have risen, standing up against the promotion and advancement of radical Islam, I believe these also threaten the Philippines," he added.
Lawyer Norberto M. Navarro, NCIP Commissioner who headed the Philippine delegation, said they are glad that Vandrendriesshe shares the same mind, especially that the Communist Party of the Philippines (CPP) and its armed wing, New People's Army (NPA) are actually terrorist groups that have been declared as such by the United States, European Union, the United Kingdom, Australia, Canada, New Zealand, and the Philippines.
"The protection of indigenous peoples is live and robust in our country, but it's been painted by communist groups as bad, that we have been neglecting. One, because it's for bringing up stories; and second, because they are vulnerable. The indigenous peoples are vulnerable and easily manipulated," Navarro said.
He said identified international non-government organizations (NGOs) have been the source of funding by communist groups.
"Wittingly or unwittingly these foreign funding agencies have given their support. At the minimum, 60% of the funding does not go to the communist schools but siphoned off for their armed uprising," he added. "Four months ago, our Department of Education closed down 52 schools of indigenous peoples because they were found to be using those schools, not for education but to teach children how to become child warriors, how to make bombs, etc."
Navarro added that because it's the Belgian government providing funds for these intermediary organizations, referred to by the Philippines as foreign funding agencies (FFAs), it's also a matter of responsibility how the latter attach conditions for the use of these funds.
Vandrendriesshe floated the question if these NGOs have ties with communist parties in Belgium.
"Because we also have a communist party here, and it's very small. But we do know they have a lot of international ties, they are very interested in that," he added.
He brushed aside negative reports about the Philippines.
"I think it's through the western media that President Duterte is being painted as some semi-dictator and generally democratically elected. But I have a different point of view because I think the world is a very huge place and the Philippines has a different culture than Europe," he said.
He also appreciated the Philippine delegation's effort of addressing the matter to the Belgian government and having documented facts for the European Union and other governments in the European countries.
"So, these organizations, some are terrorists. These are typical organizations founded in the 70s," he said.
Here in Europe, he added, they depict themselves as being some kind of neutral organization, which isn't basically true.
"But it's good that you gave me other information. I'll be glad to read. It's good to be informed on this kind of topics which impact your country," he said. (PNA)