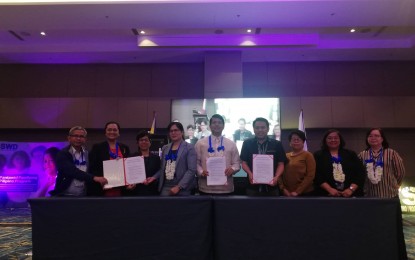 MANILA -- The Department of Social Welfare and Development (DSWD) has signed the Implementing Rules and Regulations (IRR) of the recently signed Republic Act 11310 or the Pantawid Pamilyang Pilipino Program (4P's) Act of 2019 along with its eight partner agencies on Monday.
DSWD Secretary Rolando Bautista said the institutionalization of the 4Ps as the national poverty reduction strategy brings the agency closer to further lowering the poverty rate in the country.
"By signing this into law, President Rodrigo Duterte has ensured its sustainability and enabled us to get closer to bringing down the incidence of poverty by 14 percent in 2022 from a previous high of 27.6 percent in 2015," Bautista said in a speech in Quezon City.
The Act was passed by the Senate as Senate Bill No. 2117 on Feb. 4, 2019, and adopted by the House of Representatives as an amendment to House Bill No. 7773 on Feb. 7, 2019. It was signed into law by President Duterte on Apr. 17, 2019.
The DSWD's partner agencies in 4P's include the Department of Education (DepEd), Department of Trade and Industry (DTI), Department of Health (DOH), Department of Labor and Employment (DOLE), Department of Agriculture (DA), Department of Agrarian Reform, Technical Education and Skills Development Authority (TESDA), and Department of Science and Technology (DOST) and other representatives of the agencies and organizations that took part in the crafting of the IRR were together with the agency in the ceremony.
The IRR is a collaboration of efforts of DSWD, national government agencies, local government units, and non-government organizations.
Salient points
From a PHP500 worth of health grant per month, the law states that the program will now provide PHP750 assistance per month.
The education grant, on the other hand, will also get PHP300 per month for each elementary student and daycare, PHP500 per month for each junior high school student and PHP700 for those in senior high school.
There will also be additional grants to cover rice and tax subsidies.
For sustainability, the beneficiaries will also be given priority in availing the interventions and modalities or employment facilitation services presented by DSWD's Sustainable Livelihood Program (SLP) or other similar programs offered by other government agencies and accredited private institutions.
These will all be provided to the beneficiaries as long as they are compliant to the conditions set by the program such as availing pre-natal, birthing, and post-natal medical care, undergoing regular check-ups and vaccinations for children 5 years old and below, deworming, ensuring 85 percent attendance in school, and participating in monthly Family Development Sessions – all for the ultimate goal of improving their quality of life. (PNA)