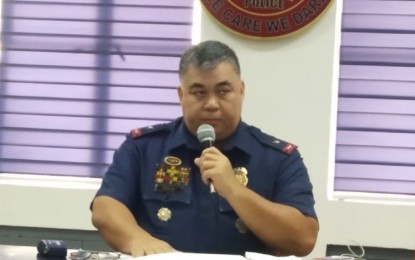 MANILA -- The National Capital Region Police Office (NCRPO) on Tuesday said a lockdown will be implemented in Camp Bagong Diwa in Taguig City from December 18 to 19.
"Hindi muna (papayagan ang visitation), para maka-focus kami sa promulgation [Visitation is not allowed for us to be focused on promulgation]," NCRPO acting chief, Brig. Gen. Debold Sinas said in a press briefing.
Sinas was referring to visits to prisoners inside the camp where the promulgation of judgment of the decade-long Maguindanao massacre case will be held on December 19.
He added that rallies will only be allowed in sidewalks outside the camp so as not to disrupt the flow of traffic.
Sinas said such protocol would apply to the supporters of the Ampatuan clan and of the victims' families.
The NCRPO also assured the security of the judge and the prosecutor of the case.
Sinas clarified that the security measure for the judge and prosecutor would not stop in the day of the promulgation as it would continue until they feel "normal."
"We have constant contact with them para hindi sila [so that they will not] feel threatened," Sinas said.
He added that they have yet to detect any security threats for the promulgation.
Inside the camp, 120 Regional Mobile Force Battalion (RMFB) and 100 Civil Disturbance Management (CDM) personnel would secure the area.
Additionally, more than 50 "plain clothes" policemen would help in securing the camp.
The promulgation of judgment by Quezon City Regional Trial Court (RTC) Branch 221 Judge Jocelyn Solis-Reyes will involve the accused masterminds of the massacre led by brothers former Datu Unsay, Maguindanao Mayor Andal Ampatuan Jr. and former Autonomous Region in Muslim Mindanao governor Zaldy Ampatuan.
The family's patriarch, the late Maguindanao Gov. Andal Sr., was also among the principal suspects but died in detention in July 2015.
The suspects were charged with multiple murders for planning and direct participation in the massacre in Sitio Masalay, Barangay Salman in Ampatuan town, Maguindanao.
The Maguindanao massacre is one of the cases in the inventory of the Presidential Task Force on Media Security as 32 of those killed were journalists accompanying the convoy on their way to Shariff Aguak town to file the certificate of candidacy of then Maguindanao gubernatorial candidate Esmael "Toto" Mangudadatu.
The convoy was ambushed by around a hundred armed men. (PNA)