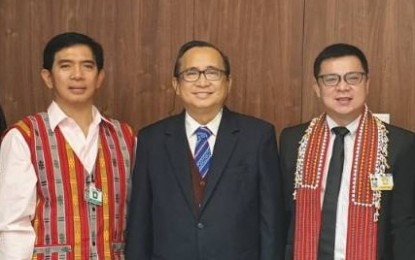 BRUSSELS, Belgium – Contrary to the bad picture being painted by communist-linked groups, an official of the National Commission on Indigenous Peoples (NCIP) said the protection of indigenous peoples in the Philippines is alive and robust.
This, according to lawyer Norberto M. Navarro, NCIP Commissioner, in a meeting with European Union Parliament member Tom Vandedriessche here on Dec. 4.
"Our agency (NCIP) is the one mandated by domestic law to protect and promote the rights of indigenous peoples. And because of that law, we've been able to title 5.7 million hectares in the name of indigenous peoples as communal-owned. And to appreciate that figure, that's already one-sixth of our country," Navarro said, referring to Republic Act 8371 of Indigenous Peoples Rights Act of 1997 (IPRA) that recognizes and promotes all the rights of indigenous cultural communities/indigenous peoples of the Philippines.
The NCIP, he said, is set to title another five million hectares which will make it one-third of the country titled to IPs.
IPs represented
He added that IPs are widely represented in all levels of Philippine local government units through their mandatory membership in local legislative councils, chosen under Ip customary laws.
"There is an indigenous people in every legislative council starting from the lowest level – barangay to the city and provincial levels. So there are ample representations in all those levels," he said.
He lamented that the issue of indigenous peoples has been carried by many non-government organizations (NGOs), some of them go around soliciting funds and other support abroad and painting our country as a one where there's no operation of law and that dissent is prosecuted, among other things.
"I pointed out these things to say that there is strong protection for indigenous peoples. If I may mention also the more recent ones, we have canceled five concession agreements from forest management because — it goes with the consultation process with the IPs," he said.
He added that two lead projects of the government, the biggest mining in the world for nickel, has not been approved yet because the indigenous peoples have not given their consent.
"Similarly, a dam that would supply 12 to 15 million Filipinos in the city has not been approved because a few hundred households who are indigenous peoples where the dam will be put up have not given their consent," Navarro said.
IPs, he said, are vulnerable and easily manipulated as evidenced by the alternative schools put up by communist-linked groups that were later closed down because they were found to be used, not for education, but to teach IP children how to become child warriors.
He added that identified NGOs source their funds from foreign funding agencies, -- 60% of the funds do not go to the schools but siphoned off for communist rebels' armed uprising.
Fund validation
With the closure of 52 Salugpungan schools in early October this year, Navarro said the NCIP is verifying reports that some communist-linked groups are funded by Belgian organizations.
"We are here to propose and suggest that any funding of NGOs in the country that operates or affects ancestral domains should follow the validation of consent in a manner required by law," he said.
Navarro expressed hope that foreign funds undergo a process that is universally accepted or advocated practice.
"There's a process required by law. And it's not just me and NGO talking to one IP but the whole community, and coordination mechanism with the local government.," he said
He added that the second possible mechanism wherein we can avoid funding misuse by communist terrorist groups is for foreign funding agencies to go directly to the communities, using the communities' NGOs, not intermediary NGOs that are not rooted in the communities.
"That way, it becomes more efficient because community NGOs do not have administrative costs, and it directly empowers the communities rather than not knowing how the NGOs would affect their progress in their communities," he said. (PNA)