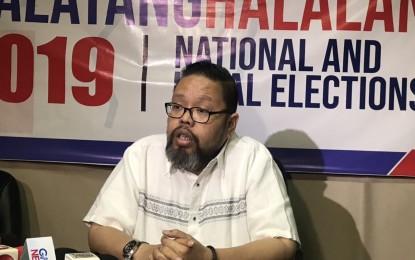 MANILA -- The Commission on Elections (Comelec) is looking to "hybridize" the next national elections in May 2022.
"We have no recommendations yet. It's been talked about. Our focus really is a hybridization of the AES (Automated Election System)," Comelec spokesperson James Jimenez said in an interview Wednesday.
A hybrid election system is a combination of both manual and electronic methods to be used either in voting, counting, transmission, and canvassing of results.
However, the poll body official added that they have given Congress an estimated budget for their plan.
"So far, we gave them our budget estimate, how much it would cost and well it looks like there is budget implication especially hybridization the way they are describing it now with projectors and everything at the canvassing level. So the costs have ballooned," he said.
While he doesn't have the exact figures, Jimenez said the commission may have to pay twice or thrice the normal cost of an election.
"Ultimately, whatever it costs is whatever democracy costs. It doesn't really matter in the grand scheme of things but if you are looking at budget purposes you will be surprised that we have that cost estimate. But again I don't think that's going to be a major hindrance for the legislators if they really want to go on a certain path then that's doable," Jimenez added.
Jimenez said they included in their allocation proposal for three kinds of budget for the hybridization.
"In our budget, we suggested three kinds of budget, for hybrid, budget using our current machines plus an additional budget for a whole new batch of machines, so three kinds of budget and the most expensive is the hybrid," he added.
The poll body has used vote-counting machines (VCMs) in the last three national elections in the country.
Earlier, President Rodrigo Duterte ordered to dispose of the VCMs of Smartmatic and look for a new one that is free of fraud.
Some lawmakers earlier called for a hybrid election system following glitches that hounded last May's midterm polls. (PNA)