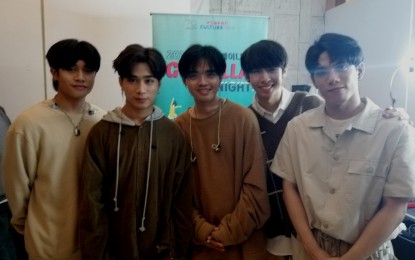 MANILA -- There's no stopping rising P-pop group, SB19, to showcase its talents to "A'TINs" (its official fandom), as the group is set to hold its first major concert at the Cuneta Astrodome in Pasay City on December 28.
"Actually, we are very excited, because this will be an avenue for us to showcase our other talents, other characters of the members," said member Justin, during the group's interview with the Philippine News Agency (PNA) over the weekend.
"We've prepared so much for this concert, and that would also be the time that we would release a new song," said another member, Sejun.
Another free concert is slated in Bacolod on December 22.
The group has been training for almost four years now, nine hours a day, and six days a week. Training sessions include vocalization, choreography, among others.
"In those four years, we discovered the talents we didn't know we had. Every time we step on stage, we ensure to give more than 200 percent (in our performance). We have to be prepared every time we step on stage," Justin said.
The boys said they write their songs and also do the choreography.
They consider "Go Up" as their hit song.
As of posting, "Go Up" has more than 4.3 million views on YouTube. Just last month, the group placed 6th on Billboard's Next Big Sound chart, which tracks the fastest growing artists based on online traction.
SB19 was trained by Korean entertainment company, ShowBT.
The members said they have been to Korea many times, performing together with K-pop artists such as Psy, GFriend, and Momoland.
"The first thing I noticed in Korea is that its weather is really different (from here). Their food is very delicious, and the sceneries are really beautiful as if we are in a painting," said member Ken.
"We didn't expect their (Koreans) reaction. We sang 'Go Up', which has Tagalog lyrics, so we were thinking they wouldn't understand. We saw that they noticed our efforts, and they tried to sing along with us," Sejun said.
Looking back
As SB19 members expressed their desire to uplift the status of Pinoy pop (P-pop), most of the members didn't fail to recognize the Korean Cultural Center (KCC), which played a big part for them to achieve success.
Last Saturday night, the group performed in KCC-organized "Guerilla K-Night" in Mandaluyong City.
Sejun said KCC has been inviting SB19 to perform in its events since last year, enabling the group to visit various schools around the metro.
KCC events' stages became the group's training ground, he said.
Last year, SB19 performed alongside Korean group, BNF, during the Philippines-Korea Cultural Exchange Festival in Pasay City. (PNA)