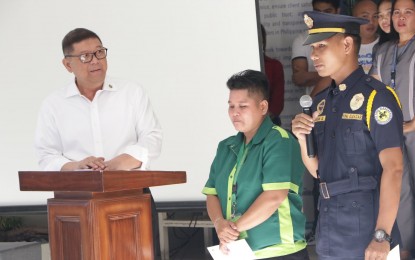 MANILA -- Two more acts of kindness during the recently concluded 30th Southeast Asian Games were not left unnoticed as no less than Philippine Sports Commission (PSC) chairman William 'Butch' Ramirez rewarded the people for their honesty.
During the flag-raising ceremonies on Monday, Ramirez, also the chef de mission of the Team Philippines in the SEA Games, shelled out money from his own pocket and gave PHP20,000 each to PhilSports Arena utility worker Marilou Perez and security guard Jonar Masigan for their exemplary acts.
Perez first had her honest deed on Dec. 6 when she returned the money she found at the ladies' restroom to an Indonesian spectator who was hurrying in to look for the money.
"Hindi ko naman po pinagpaguran yung bagay na yun eh, hindi po sa akin yung pera. Yun na lang po yung inisip ko nun (I did not work for that money, it's not my money. That's what came to my mind)," said Perez in a statement.
Five days later, it was Masigan's turn to make the selfless act, quickly looking for the owner of the lost wallet that he saw while doing a facility inspection after the SEA Games volleyball events at the PhilSports Arena in Pasig City.
"Ang sa akin kasi… ang pera na pinaghirapan, mas masarap gastusin kaysa yung hindi mo naman pinaghirapan at hindi naman sa iyo. Yung karma na darating sa'yo mas mahirap (For me, it feels good to spend hard-earned money than money that is not yours. You don't want karma to happen)," Masigan said.
Both Perez and Masigan thanked Ramirez for the unexpected early Christmas gift.
"Nagpapasalamat ako kay Chairman Ramirez dahil binigyan kami ng atensyon (We are thankful to Chairman Ramirez that we were given attention)," said Masigan who has two children.
"Our unsung heroes not only displayed the sterling character of a true Filipino to our guests in the recent 30th SEA Games, but they also raised the respect and dignity of their fellow workers," Ramirez, for his part, said in a statement.
Those were not the only times a kind act took place during the Philippines' fourth hosting of the biennial where country finished as overall champion with 149 gold, 117 silver, and 121 bronze medals.
On Dec. 6, Filipino surfer Roger Casugay helped his Indonesian rival Arip Nurhidiyat whose surfing leash snapped during the preliminaries of the men's longboard event in San Juan, La Union.
Casugay, who eventually won the gold medal, earned praises from netizens, including Indonesian President Joko Widodo.
The Indonesian leader thanked the Filipino surfer and commended him for "upholding sportsmanship".
In the Senate, Senators Bong Go and Nancy Binay filed Senate resolutions recognizing Casugay for "showcasing the true heart of a champion by setting aside his goal of capturing a gold medal and saved the life of a competitor without hesitation".
Casugay, who along with his team recently paid a courtesy call on President Rodrigo R. Duterte in Malacañang, was named "Fair Play Athlete" of SEA Games during the closing ceremony at the New Clark City Athletic Stadium in Capas, Tarlac on December 11. (PNA)