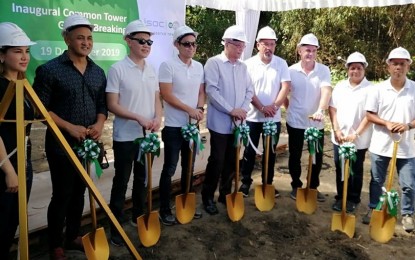 BACOOR CITY, Cavite - The country's hope to get 5G, or the fifth generation wireless networking architecture, takes a big step Thursday with the groundbreaking of the first common tower at Addas Greenfield Village here.
Department of Information and Communications Technology (DICT) Undersecretary Elizeo Rio, who led the groundbreaking rites, said this shared infrastructure project of ISOC edotco Towers Limited (ISOC edotco), a regional end-to-end integrated telecommunications infrastructure services company, will support the country's target to improve the current infrastructure in telecommunications, "which, sad to say, is still 2G".
"We have the lowest tower in the city, maybe in the whole world, not only in this region, where over 7,000 subscribers are sharing, being serviced by a single tower," he said.
Rio said the country's current telecommunication infrastructure equates to slow and expensive connectivity and many blocked calls, which make the over-all telecommunication service not good especially in rural areas where the densities are even smaller.
To improve this, the DICT started the concept of common tower way back early 2018, he added.
Rio thanked ISOC edotco for being the first to step in and submitted its unsolicited proposal on the initiative.
He also hoped that the local government would not make it hard to establish such structures which he considered "very fast and cheap access to reach the digital world" and improve lives of all sectors.
The common tower, which is expected to rise within the next few months, hopes to host not just one but three of the country's major telecommunication operators.
edotco Chief Executive Officer Suresh Sidhu said "this is also a major step forward for the nation, towards embracing the shared infrastructure model and advancing overall connectivity".
ISOC edotco aims to build 400 to 500 towers within the first year of operation, contributing towards the 1,000 towers planned within the first phase of operations, which will span from two to three years.
"Our efforts in the Philippines are fueled by the clear opportunity to transform the telecommunications landscape and our commitment to improve the country's digital aspirations as a nation building partner," he added.
ISOC Infrastructure Inc. and edotco Group Sdn. Bhd will invest up to USD100 million each in the local market over the next three to five years. (PNA)