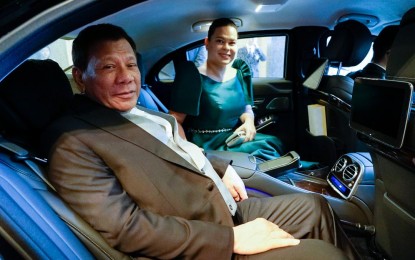 MANILA -- Whether or not President Rodrigo Duterte should decide to run as vice president to his daughter, Davao City Mayor Sara Duterte in 2022, the possibilities are limitless, Malacañang said on Thursday.
Presidential Spokesperson Salvador Panelo said he was "not surprised" at the results of a pre-election survey that showed that the daughter-father tandem emerged as the top candidates for the two highest positions in government.
"I'm not surprised. That has been done before in the City of Davao when both of them ran as mayor and vice mayor," Panelo said in a Palace briefing, referring to the daughter-father tandem in 2010.
The older Duterte was aware of the survey results, Panelo said, noting that the Chief Executive "smiled" when he was asked to give a reaction.
Panelo acknowledged that it has been the "emerging idea" of the older Duterte's fans and supporters to push him to join the vice-presidential race in 2022.
He said only the President could decide to heed their clamor or ignore them completely.
"If you speak of possibilities, then it's limitless. Puwede lahat 'yan (Anything is possible)," Panelo said.
During the 2016 presidential elections, the older Duterte initially said he had no interest to run for president until the Senate tribunal thumbed down the disqualification case against Senator Grace Poe's presidential bid.
He said he believed that Poe, being a foundling, is not a natural-born citizen and is not qualified to seek the highest post in the land.
Now President, he has repeatedly said that he is "sick and tired" of the system and regretted his decision to seek the nation's top post.
Panelo said just as he did during the 2016 presidential elections, the older Duterte could still change his mind about running for vice president.
"Di ba noon ayaw niya rin tumakbong presidente? Depende siguro if circumstances require him to run, he might. Dati na siya pagod, nung tumakbo siya. Dami na nga niya reklamo (Remember he didn't want to run for president? Perhaps it would depend if circumstances require him to run, he might. He was already tired when he ran for president in 2016. He already had a lot of gripes)," he said.
Focused on presidential duties
Panelo, however, noted that the President is still focused on performing his duties until the end of his term in 2022.
"Election is very far from his mind. Running for any office is far-fetched at this time. He is focused on his constitutional duty to serve and protect the people," he said.
"Until the day of his term, he will do it with passion, with dedication, and no force on earth or organizations or persons can stop or impede him from doing such task assigned to him by the Constitution."
Sara, who also leads a regional political party called Hugpong ng Pagbabago, has neither confirmed nor denied plans to seek the presidency in 2022.
Her father, however, has repeatedly advised her against running for president because he did not want her to go through the same experiences he went through three years into his term.
The older Duterte previously said the presidency could both "educate" and "destroy" his eldest daughter.
In 2018, he said he saw his daughter succeeding him in the near future. However, he changed his mind this year, saying it would be better for her not to follow his footsteps.
Results of the survey showed that 35 percent of the respondents selected Sara as top on a list of 21 potential presidential candidates, followed by Senator Grace Poe (11 percent), Manila City Mayor Isko Moreno (7.8 percent), Senator Manny Pacquiao (5.5 percent), House of Representatives Speaker Alan Peter Cayetano (4.6 percent) and Senator Christopher Lawrence "Bong" Go (4.5 percent).
The older Duterte emerged as the top candidate among 21 potential candidates acquiring 11.6 percent while his daughter was a close second with 11.5 percent, followed by Moreno (9.85 percent), Poe (9.05 percent), Cayetano (8.85 percent), and Pacquiao (7.25).
The survey, released by political consultancy firm PUBLiCUS Asia, Inc. and processed by its data science arm, VOX Opinion Research, was conducted from November 15 to 19, where 2,000 registered voters from the two regions were randomly chosen. (PNA)