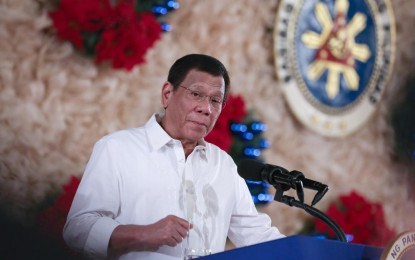 MANILA — President Rodrigo Duterte on Friday renewed his call on Congress to pass the mandatory Reserve Officers Training Corps (ROTC) program in public and private senior high schools nationwide, in a bid to promote "gallantry, bravery, and spirit of volunteerism" among the Filipino youth.
"I suggest that we pass the ROTC," Duterte said during the closing ceremony of the National ROTC Summit and the first Presidential Silent Drill Competition at the Quirino Grandstand in Manila.
"Sumali kayo. Requirement 'yan bago ka maka-graduate. Tiisin mo 'yan kasi 'yan talaga ang buhay dapat ng estudyante ng Pilipinas (Join there. That should be a requirement before you are able to graduate. The students in the Philippines should learn how to be patient)," he said.
In June this year, Duterte certified as urgent a Senate measure mandating Grades 11 and 12 to mandatorily undergo ROTC program to "invigorate their sense of nationalism and patriotism necessary in defending the State and further promote their vital role in nation-building".
The House of Representatives in 17th Congress approved its measure reviving the mandatory ROTC for senior high school students, but the Senate failed to pass its version of the bill.
During his fourth State of the Nation Address on July 22, the President cited the bill making ROTC as mandatory for high school students as among his administration's priority measures.
ROTC used to be mandatory but later became optional and voluntary for college students following the signing of the Republic Act (RA) 9163 or the National Service Training Program (NSTP) in 2001.
ROTC, which is one of the three components of the NSTP, provides military training to motivate and train students for national defense preparedness.
NSTP's two other components apart from ROTC are the Civic Welfare Training Service and the Literacy Training Service.
The Commander-in-Chief stressed the need for all the youth in the country to mandatorily join the ROTC program, as he admitted that the country lacks soldiers to fight the enemies of the state.
"We have to have a reserved force which can be mobilized anytime," Duterte said.
The President reiterated that the ROTC program would instill "perseverance, discipline, excellence, leadership, loyalty and patriotism" among the young Filipinos.
He also believed that the mandatory ROTC would serve as an instrument to fulfill his dream to give Filipinos a "comfortable life".
"I assure you that this administration will remain unrelenting in its mission to realize a comfortable life for all Filipinos, and I firmly believe that the values learned from the ROTC Program are vital towards achieving this goal," he said.
On Wednesday, Presidential Security Group (PSG) commander Brigadier General Jose Eriel Niembra added the plan to reinstate mandatory ROTC among students in Grades 11 and 12 is also aimed at instilling discipline among the youth.
He said the government wanted to train the Filipino youth to make them "effective rescuers or first responders for natural and manmade disasters". (PNA)