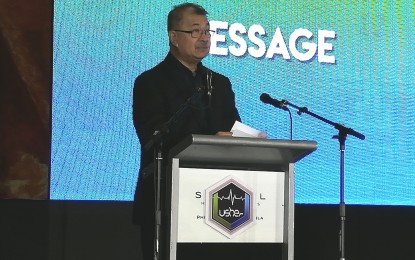 MANILA -- The Department of Science and Technology (DOST) on Friday cited numerous achievements in various fields in 2019.
Secretary Fortunato dela Peña said these include accomplishments in the fields of transportation, healthcare, disaster mitigation.
He also said it was in 2019 when the Philippines ranked number 54 in the Global Innovation Index (GII), up 19 notches from its previous ranking of 73 in 2018 and 2017.
GII is a ranking of world economies based on innovative capabilities and ranks seven pillars: Institutions, Human capital and research, Infrastructure, Business sophistication, Market sophistication, Knowledge and technology outputs, and Creative outputs.
The country had high scores in all these pillars, except for Market sophistication (credit investments), wherein the Philippines ranked 110.
Despite this, the Philippines performed above average in knowledge and technology outputs and ranked in the top 25 in the following areas: trade, competition and market scale, knowledge absorption, and knowledge diffusion.
"Technology adoption was promoted and accelerated (in 2019)," added dela Pena.
In the field of transportation, the first locally-made hybrid-electric train (HET) was officially turned over to the Philippine National Railways (PNR).
Made by Filipino engineers, HET is powered by batteries, and could run at a speed of about 50 kph and could accommodate 220 passengers.
Dela Peña earlier said Transportation Secretary Arthur Tugade has expressed interest to have more units of this DOST-made train.
In the field of healthcare, he noted the Biotek-M dengue diagnostic kit has qualified for Asean market penetration with the help of the Asean Network for Diagnostics.
Funded by the DOST and developed in partnership with the University of the Philippines - Manila, this kit was developed for early detection and management of dengue.
It has the power of DNA/RNA-based accurate detection of the dengue virus and can be used in health centers and hospitals.
Dela Peña said this kit is already sold by a spin-off company.
In 2019, Phase 1 of the clinical trials for an anti-dengue herbal medicine obtained from three herbs "showed very promising results", dela Peña said.
"We move to Phase 2 clinical trials now. If this will give positive results it can be applied at our FDA (Food and Drug Administration) as the first anti-dengue medicine," he added.
The country's largest satellite-tracking antenna, meanwhile, was launched last year.
Called the Philippine Earth Data Resource and Observation (PEDRO), this ground receiving station (GRS) in Davao, was designed to communicate with earth observation satellites, including Filipino-made Diwata-1 and Diwata-2 microsatellites, by receiving, processing, and distributing space-borne imagery.
This will also be utilized for agricultural monitoring, maritime surveillance and urban mapping.
In line with disaster risk reduction and mitigation, the DOST has launched four applications (apps).
These apps are the GeoMapper-Exposure Data Mapper, GeoMapper-Situation Data Mapper, Geo Analytics, and HazardHunter PH.
Developed under the GeoRiskPhilippines Initiative project of DOST, these apps show hazard maps, exposure data.
Hazard Hunter, for instance, helps people to know if their location is at risk for volcanic eruptions, tsunamis, and other hazards.
A so-called USHER (Universal Structural Health Evaluation and Recording System) was also launched.
"USHER was launched as a commercialized R&D (research and development) product for passive seismic monitoring of buildings and bridges," dela Peña said.
Developed through research funding from the DOST, this equipment monitors the "health" of buildings, to determine if these could withstand a strong earthquake.
The data or analysis from USHER is accessible through a cloud system, enabling both the structural engineer and the building owner could access this anytime.
In case there is no internet connection, data can also be retrieved from the equipment.
Other notable accomplishments
Dela Peña also noted the increasing number of Balik Scientists, and there are 53 of them who have been working with various universities in 2019. Most of them are working in the fields of health, agriculture, aquatic and marine, and energy and emerging technologies.
Balik Scientists are science and technology experts residing abroad and who are contracted to return to the Philippines to work and use their expertise at home.
In 2019, too, the DOST chief was among President Duterte's delegation in some of his official visits abroad. Through these, and also by participating in some technology exhibits, the DOST made bilateral cooperation with various countries, including Russia, Japan, China, United States, Indonesia, and South Korea.
Dela Peña's visit to South Korea in November 2019 made him hopeful for more research collaborations, particularly in the field of e-learning.
Two students from UP Manila, meanwhile, flew to Italy that month, as the DOST will partner with Italy on liver research. (PNA)