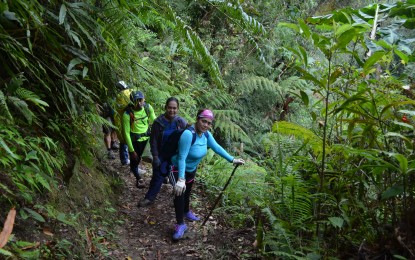 DUMAGUETE CITY -- Geothermal power leader Energy Development Corporation (EDC) has vowed to continue to reforest Mt. Talinis in Negros Oriental as part of its massive greening efforts of the entire Negros Island.
Last year, EDC personnel planted native trees in the Mt. Talinis range and hopes to continue the activity in 2020, said Norreen Bautista, head of EDC's Corporate Social Responsibility in Negros Island and Mt. Apo in Mindanao on Monday.
Mt. Talinis, which is known as the highest peak in Cuernos de Negros and has one of the few remaining old-growth forests in Negros Oriental, is one of EDC's tree-growing sites, she said.
She added that more than 30 EDC employee-volunteers recently climbed Mt. Talinis to plant more than 100 native trees.
Lawyer Allan V. Barcena, EDC's assistant vice president and head of Corporate Social Responsibility-Public Relations and Bautista headed the group, with assistance from the Valencia Eco-Guide Association and other partner groups.
The team planted Nato (Palaquium luzoniense) seedlings, one of the 96 native tree species that EDC "aims to bring back to abundance through its BINHI forest restoration program".
"Our team of climbers from our CSR and other departments bond together with other residents of our partner communities in Valencia, Negros Oriental as we plant and grow native trees in Mt. Talinis even if we do not have any operation in the area," Bautista said.
"Each tree growing activity brings out the participants' bayanihan spirit," she added.
The EDC team first planted some 100 premium endangered native trees in the Mt. Talinis range during the celebration of Earth Day in 2018, followed by last year's planting activity.
Bautista stressed that lush forests will help geothermal energy recharge its reservoir, as trees will hold and release water deep into the earth.
"Otherwise, geothermal steam fields will dry up and will not be able to produce enough steam to run its power plants," she said.
EDC has been planting and maintaining forests in Negros Oriental where it has been generating clean, renewable, and reliable geothermal facilities for over 36 years, an EDC media release said over the weekend.
From 2009-2019, the company has planted and grown almost 3 million Philippine native trees in the entire Negros Island with the help of its over 30 partners under its flagship BINHI forest restoration program.
BINHI aims to bridge forest gaps and bring back to abundance 96 Philippine native trees mostly in its geothermal reservation areas.
In recognition of EDC's greening efforts through BINHI, the company is also the first Philippine partner to be tapped by the Botanic Gardens Conservation International as a tree assessor under its Global Tree Assessment (GTA) program, EDC said.
The GTA program aims to gather information for 800 Philippine native tree species that lack data to determine their conservation status.
EDC is the country's premier renewable energy company and one of the world's largest geothermal producers. Its geothermal facilities in Valencia, Negros Oriental has been providing clean, renewable, reliable power 24/7 to Negros Island and other parts of the Visayas region for over 36 years. (PNA)