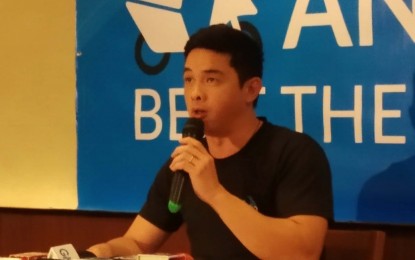 MANILA -- Motorcycle ride-hailing firm Angkas on Wednesday vowed to work and comply with government rules and regulations for ensuring the success of the motorcycle taxi pilot run.
"We will try our best to be compliant with government rules and regulations and I would like to reinforce on public record that we have always and will continue to work with government regulators and not against them," Angkas chief transport advocate George Royeca told reporters in a press briefing held in Makati City.
"I would like to commend the government for seriously considering motorcycle taxis as an added transport option for Filipino commuters amid the ongoing traffic crisis," he added.
Royeca also expressed his hope for the riders' cap imposed on the firm to be lifted so that everyone can proceed with the extended pilot run smoothly and without any hitches.
"But on the same breath, we ask for fairness, in consideration of all the hard work we have done to comply with government regulators since last year," he noted.
Royeca also clarified that they are not picking a fight with government regulators.
"Pasensya na po sa naging (We apologize for being) back and forth. Please don't mistake what we did as defiance. Right from start, we worked hard to be compliant with everything the Land Transportation Franchising and Regulatory Board (LTFRB) and the (Department of Transportation's) TWG (technical working group) had set in the first motorcycle taxi test run. For six whole months last year, there was never any problem," Royeca explained.
"It must be noted that we complied with everything that the TWG asked us to do in the initial test run. We did a re-training of all our riders. We gave our riders safety vests based on the recommendation of the TWG. We are continuously complying to the best of our abilities with the new pilot guidelines," he revealed.
Royeca also reported that in the three years since Angkas started, the Angkas app was downloaded three million times. In the course of the pilot run, they have recorded millions of rides.
In terms of the service's safety record, Angkas riders had only .003 percent accidents with zero fatalities.
Angkas also has in place an Emergency Response Team and Medical Accident Network with six Emergency Medical Responder (EMR)-trained full-time employees, 42 EMR-trained biker respondents, 12 on-call doctors, and eight affiliated hospitals. During the initial pilot run, the average response time recorded was 30 minutes.
Royeca also reported that Angkas has set aside an accident emergency fund to cover expenses above and beyond what's provided by the private insurance. The company also ensures proper financial controls and standard operating procedures for quick fund disbursement for immediate patient assistance.
"It took us three years and dozens of safety training sessions and hundreds of hours of training to come up with a fleet of 27,000 competent bikers. You cannot build a competent and safe biker network overnight," Royeca shared.
"We have invested so much in continuous training -- our trainors have been trained by a US firm that trains the US Marines and conducts motorcycle rider licensing and accreditation for the California and Pennsylvania State Department of Motor Vehicles. They have also undergone training with the Philippine National Police Highway Patrol Group, and we are continuously working on updating and improving further our trainings," he noted.
"Moreover, I believe a support system for our bikers is necessary after they've passed our screening in order for them to continuously provide excellent service to our customers," Royeca added, stating that their system averages doing assistance to 360 riders per day.
In terms of training, Royeca reported that they have retrained over 20,000 bikers for the initial pilot run. They had a total of 50 field retraining activities with riders getting retrained practically every week.
For six months from July to December of 2019, the safety record of Angkas was reported as 99.997 percent.
"We tried our utmost best to maintain a high safety record for the benefit of all our passengers. We are proud to say that our high service standards were maintained in the test run," he stressed.
When asked about their pricing scheme, Royeca said this is for them to be able to encourage more bikers on the road to meet the demand.
"But because it is not allowed in the pilot, we will comply. We just want to give a heads up that this may result in bikers going back to habal-habal and that there'd be substantially fewer Angkas bikers on the road."
Royeca also noted that he is not against competition in the motorcycle taxi industry.
"I would like to emphasize that even back then, I knew there will be new players as soon as motorcycle taxis become the subject of legislation and regulated. I have never aspired to establish a monopoly," he stressed.
When word got out that the LTFRB will be extending the run with new players, Royeca was interviewed in the media and was reported to have said that he was totally fine with the inclusion of new players in the test run extension.
"This means that people have begun to realize the importance of motorcycle taxis in helping our commuters beat the daily traffic," he noted.
In a presentation he showed during the briefing, Royeca reported that a total of 117,166 bikers have applied with Angkas.
Of that number, 36,797 bikers were onboard. However, only 26,478 were retrained and activated for the first pilot run and 10,378 were deactivated.
On Monday, a Mandaluyong court handed down a 72-hour temporary restraining order against the LTFRB's order, which limits the number of riders for Angkas.
In a three-page order, acting Executive Judge Ofelia L. Calo of Mandaluyong City Regional Trial Court (RTC) said there is "urgency" in the issuance of the TRO against LTFRB's move to limit Angkas' riders to 10,000 in Manila and 3,000 in Cebu.
Angkas was likewise ordered to post a PHP300,000 bond by the court.
Last December 19, the LTFRB, in its own guidelines, set its cap of 30,000 riders for Metro Manila and 9,000 riders for Metro Cebu to part of the pilot implementation.
Two days later, the LTFRB said hailing apps Move It and Joy Ride will be included in the revised guidelines and that the 30,000 riders limit will now be divided among the two new ride providers and Angkas or 10,000 each.
Angkas then filed the suit claiming that the guidelines are "arbitrary and unilateral".
The LTFRB has yet to respond for comment on the issue.
The DOTr's TWG earlier said Angkas may be blacklisted from the country's motorcycle taxi industry after it found out that it is illegally operating in Cagayan de Oro City and that it is 99 percent owned by a certain Singaporean national Angeline Tham. (PNA)