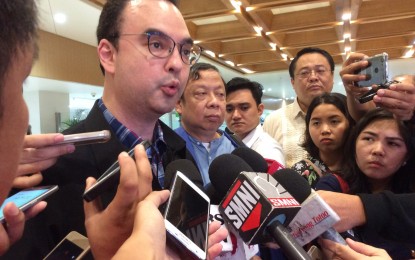 MANILA – Speaker Alan Peter Cayetano on Wednesday labeled as "very unfair" Vice President Leni Robredo's assessment that President Rodrigo Duterte's anti-illegal drugs campaign is a "massive" failure.
"I think very unfair 'yung assessment kasi 'yung facts nandun, pero 'yung conclusion niya does not support the facts (I think the assessment was very unfair because the facts were presented but the conclusion does not support the facts)," Cayetano told reporters in an ambush interview.
Cayetano said Robredo failed to compare the results of the anti-drug efforts in the previous and current administration as it could be used as a basis to conclude whether the campaign was successful or not.
"Hindi naman niya na-compare 'yung dami ng hinuli ngayon sa dami ng hinuli nung past administration. Hindi niya na-compare 'yung dami ng drug operation ngayon sa dami ng drug operation dati. Hindi niya na-compare 'yung dami ng patay during the Aquino administration at ngayon (She did not compare the number of drug suspects arrested during the current and past administration. She did not compare the number of drug operations conducted now and then. She did not compare the death toll during the Aquino administration and current one)," he said.
"So, kung sasabihin niya, palpak ang drug war, ano tawag mo dun sa dating administrasyon? Ultra-palpak o kapalpak-palpakan? (So if she claims that the drug war is a failure, then what do you call the one conducted by the previous administration? Ultra-failure or the failure of failures?)," he added.
Cayetano also noted that it is difficult to obtain accurate data on illegal drugs in the country given the very nature of the issue, arguing that other countries only present estimates.
"Ang sabi niya, we should have better and more accurate numbers of ilan ang pusher at saka user... Dito lang ho sa atin, kung may gumagamit ngayon, may aamin ba? Pwede ka magpa-survey, pero kahit sa survey, hindi mo alam kung sasagot (she said we should have better and more accurate numbers of drug pushers and users... For example, in our case, would someone admit to illegal drug use? We could conduct a survey, but we don't know if they would answer [truthfully])," he said.
"So, it is not a guesstimate. Hindi ito hinulaan (This is not a guessing game). It is best, it is an estimate on the best available data. So, do I agree with her na sana mas maganda 'yung data (that we could have better data)? Yes, but do I blame the government? Hindi, because the nature of it," he added.
The Speaker invited Robredo to attend a congressional hearing to present the facts on the government's crackdown against illegal drugs.
"It's a non-confrontational hearing, but more of, sige, let's have PDEA (Philippine Drug Enforcement Agency) there, let's have PNP (Philippine National Police), let's have ICAD (Inter-Agency Committee on Illegal Drugs), let's have her. Ilabas lahat ng facts (Let's present all the facts)," he said.
Robredo, who served as co-chairperson of ICAD for 18 days, claimed Monday that the Duterte administration's three-year drug war only seized less than 1 percent of the total shabu supply in the country.
Citing police data, Robredo said the approximate consumption of shabu in the country is 3,000 kilos weekly or about 156,000 kilos a year.
She also noted that only PHP1.4 billion worth of illegal drugs has been apprehended, despite the fact that around PHP1.3 trillion worth of shabu circulates nationwide. (PNA)