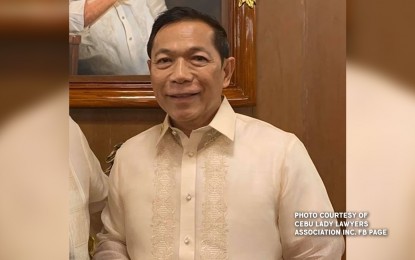 MANILA — President Rodrigo Duterte has named Court of Appeals (CA) Justice Samuel H. Gaerlan as new Supreme Court associate justice, Malacañang said on Wednesday.

"Confirmed," Presidential Spokesperson Salvador Panelo told Palace reporters in a chance interview at Malacañan's Rizal Hall.

Duterte appointed Gaerlan because of his "competence and integrity," Panelo said.
Panelo said Gaerlan will take an oath before the President on Wednesday afternoon.

He, however, did not disclose further details about Gaerlan's promotion to the high tribunal.

Malacañang has likewise yet to release Gaerlan's appointment paper.

Gaerlan will fill the seat at the high court vacated by Diosdado Peralta who was appointed as Chief Justice in October 2019.

He completed the 15-man Supreme Court, also composed of Justices Estela M. Perlas-Bernabe, Marvic Mario Victor F. Leonen, Alfredo Benjamin S. Caguioa, Andres B. Reyes Jr., Alexander G. Gesmundo, Jose C. Reyes Jr., Ramon Paul L. Hernando, Rosmari D. Carandang, Amy C. Lazaro-Javier, Henri Jean Paul B. Inting, Rodil V. Zalameda, Mario V. Lopez, Edgardo L. delos Santos, and Chief Justice Peralta.

He bested five individuals who made it to the shortlist of candidates vying for a seat at the Supreme Court, namely Jose Midas Marquez, Manuel Barrios, Ramon Garcia, Jhosep Lopez, and Eduardo Peralta Jr.

Gaerlan was an alumnus of San Beda College of Law like Duterte.

He was also a professor at the Pamantasan ng Lungsod ng Maynila.

Gaerlan also served as Public Attorney's Office lawyer before he became a trial court judge. (PNA)