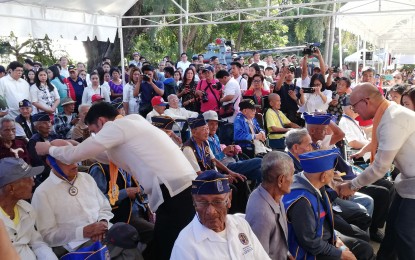 LINGAYEN, Pangasinan -- Some 25 veterans from Pangasinan who fought alongside American soldiers during the World War (WW) II were awarded with the United States (US) Congressional gold medal on Thursday here.
In his speech, US Embassy Senior Defense Officer Stephen Ma said the award is the highest and prestigious recognition given only to those whose contribution greatly affected US.
The youngest veteran conferred with the award is 95-year-old Col. Miguel Aure, while the oldest veteran awardees are Pfc. Gregorio Martinez and Pvt. Placido Laureta, both 102 years old.
Most of the awardees personally received their medals, while some were received by their family members in a ceremony held alongside the celebration of 13th Pangasinan Veteran's Day and 75th Landing of General Douglas McArthur on Thursday.
Out of the 181 living veterans, only 41 of them were able to attend the annual celebration.
"We are celebrating bravery. This is an expression of gratitude to our living veterans and honoring the bravery of the fallen war veterans," said Department of the Interior and Local Government (DILG) Undersecretary for Peace and Order, Bernardo Florece Jr., who represented DILG Secretary Eduardo Año as guest of honor and speaker of the event.
Meanwhile, Pangasinan Governor Amado Espino III thanked the veterans and their families while assuring them their sacrifices will be heard even by the next generations of Pangasinense.
"Your sacrifices will not be in vain as we will continue what you have started. We will teach the next generation to be grateful, by being grateful they will know how to love, and knowing how to love will teach them how to sacrifice," Espino said in his speech.
In an interview, Laureta appreciated the annual commemoration of their sacrifice during WW II.
Commemorative medallions were given to all the surviving WW II veterans. A medical mission for them and their families was held at the Provincial Training and Development Center 1 and tokens were also provided to them.
A film, which features the bravery of the WW-II veterans and the allied forces, was staged at the Capitol Plaza at 6 p.m. on Thursday.
The event was highlighted with a wreath-laying ceremony at the Veterans' Memorial Park in Capitol Complex.
Australian Ambassador Steven Robinson, together with other provincial officials, also led the inauguration of the Royal Australian Navy Marker. (PNA)