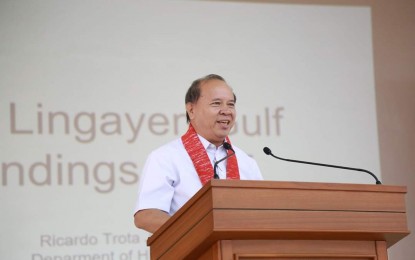 LINGAYEN, Pangasinan -- Seventy-five years after General Douglas MacArthur had landed in Pangasinan with his troops, leading the liberation of Luzon during World War II, a discussion on where he actually landed in the province is still ongoing as yet another historian claims that it was not on the coast of Lingayen nor in Dagupan City, but in San Fabian town.
"General Douglas MacArthur originally landed in the Blue Beach of San Fabian, eastern section of the Lingayen Gulf, exactly 2:15 p.m. of January 9, 1945," said University of the Philippines-Diliman professor and historian Dr. Ricardo Jose, who served as the resource speaker during a forum here on last January 8, refuting the claims of some that MacArthur landed on the coasts of Dagupan City or Lingayen town.
The landing is a significant part of history as the liberation of Luzon Island had started on that afternoon when MacArthur and his troops landed on the coast, he said.
"However, air strike bombardments began when the United States 7th fleet entered the Lingayen Gulf from the Pearl Harbor on January 6, 1945. It was a signal that the US 7th fleet survived the battle in Pearl Harbor," he added.
In his lecture, Jose said the life of the Filipinos during the Japanese occupation was very poor because of some restrictions imposed.
"During the occupation of the Japanese, (mahirap talaga ang buhay) life was so poor because everything was censored," he said.
Jose said Japanese military took over the government where they tortured many Filipinos whom they believed were doing activities against the will of the Japanese, more commonly known as Kempeitai.
Aside from the guerilla resistance, Filipinos were able to manage these acts of the Japanese through indistinct responses by not abiding to some cultures and traditions the Japanese would like to instill among Filipinos, he added.
Meanwhile, Center for Pangasinan Studies (CPS) Executive Director, Dr. Perlita Legazpi, said the activity aims to educate people, especially the youth, about the historic events that took place in Pangasinan.
"This forum, aims to educate people about our past and to recognize the gallantry of our forefathers who fought for our liberation," she said in her speech.
Legaspi said the activity further enhances one's patriotism and love for country, particularly for Pangasinan that played a significant role during the Lingayen Gulf Landings and World War II.
"As Pangasinenses, this lecture-forum reminded us of our role during the WWII, our patriotism and how we fought for freedom," Legaspi said.
It also informed the millennials about the struggles of Pangasinenses and how the early generation of Pangasinenses survived before and after the war.
The forum was organized by the Pangasinan provincial government, National Historical Commission, and the CPS.
Annually, Pangasinan commemorates the Lingayen Gulf Landing, while the Dagupan City government also holds the annual Luzon Landing commemorative program.
Since 2007, Pangasinan celebrates the Veteran's Day every Jan. 9 to honor the veterans from the province who fought alongside American soldiers during World War II. (PNA)