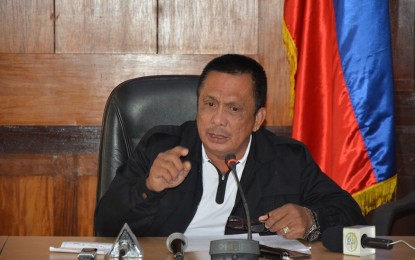 DUMAGUETE CITY – Negros Oriental Governor Roel Degamo has formally announced he is running anew for governor in the 2022 local and national elections even if he is supposed to be serving his last term in office.
Degamo told reporters over the weekend that he is confident he has another chance for the same position and that the law is on his side, citing a favorable Supreme Court decision on a case involving Governor Edgar Tallado of Camarines Norte.
Degamo's term was interrupted several times due to a suspension and dismissal from service over intelligence and calamity fund misuse.
Last year, the high court allowed Tallado to serve his fourth consecutive term after ruling that suspensions and dismissals from the Ombudsman were involuntary interruption to his terms.
"There is no difference at all with that case and mine," said Degamo. He was already eyeing a post in Congress in 2020, but with the high court's decision on Tallado's case, he shifted gear and decided to run again as governor.
"I assure the people of this province that I will still be your governor in the years to come," he said, pointing out that "God has a purpose in all of these developments that are unfolding in the province".
Degamo also criticized his detractors for circulating online via social media his alleged dismissal from government service.
They are like "dogs who bark at each other with foul smell coming from their own tails," he said following the publication of what he described to be "recycled" court decisions.
The governor was reacting to pronouncements of Aldo Muñoz, legal counsel of Mellimoore Saycon, a former Provincial Board member, who filed a case against him in connection with the PHP10-million intelligence fund for the chief executive of the province.
The Court of Appeals had eventually dismissed the case.
Degamo told the two to study their lessons first before going public about what they claimed was a dismissal order from the high court. (PNA)