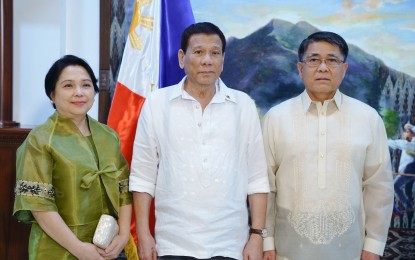 MANILA -- President Rodrigo Duterte on Monday night said he was "satisfied" with the performance of Customs Commissioner Rey Leonardo "Jagger" Guerrero amid reports that he was going to be replaced.
In a media interview in Taguig City after an engagement with members of the Philippine Marine Corps, Duterte denied reports that there was a new Customs Chief set to replace Guerrero.
"I'm satisfied with General Guerrero and he stays there," Duterte said.
He admitted that there were still some complaints against the Bureau of Customs (BOC), but was determined to discuss them with the former chief of the Armed Forces of the Philippines (AFP).
"There are still some complaints, so I'll talk to him (Guerrero). Lalo na 'yung mga tao na sinabi ko na paalisin na niya (Especially the people who I asked him to fire). Some of them are lingering there," Duterte said.
He did not identify the personnel of what he previously described as a "corruption-ridden agency".
"So sabihin ko kay Jagger, alisin mo na 'yan kasi 'yan 'yung mga tao na who have been there for 25 years, 20 years, puro corruption ang ginawa (So I'll tell Jagger, remove them there because they're the people who have been there for 25 years and did nothing but corruption)," he added.
Reports indicated that Guerrero would supposedly be replaced by Davao-based businessman William D.J. Lima, who was earlier appointed as special envoy to China.
However, Cabinet Secretary Karlo Nograles said that there was "no specific instruction yet" about Lima's supposed appointment.
In 2018, Duterte warned that he would replace all Customs employees with military personnel after billions worth of shabu slipped past the agency.
The President said "anarchy" prevails in the BOC as he defended his decision to designate uniformed personnel in his Cabinet anew.
His decision to deploy military personnel at the BOC is to "keep peace", Duterte said.
The following year, the President met with 52 BOC personnel facing corruption allegations in Malacañang.
Duterte ordered the "freezing" of BOC officials and employees which meant that they would be placed on "floating" status pending administrative and criminal charges. (PNA)