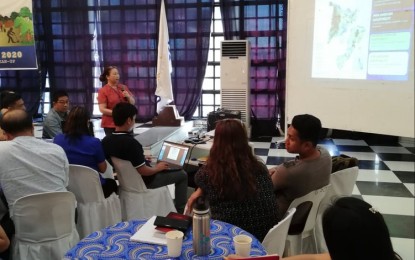 ILOILO CITY -- At least 10 municipalities in the province of Iloilo are considered high risk to rain-induced landslide and flood, the Mines and Geosciences Bureau (MGB) of the Department of Environment and Natural Resources (DENR) in Western Visayas said on Tuesday.
The updated 1:10,000 scale geohazard map of the province done in 2018 was presented by the DENR-MGB to Iloilo Governor Arthur Defensor Jr. in a convergence meeting at Casa Real de Iloilo here.
Mae Magarso, the DENR-MGB senior geologist, said the towns of Leon, Tubungan, Igbaras, Miagao, San Joaquin, Maasin, Janiuay, Calinog, Lambunao, and Alimodian were identified as vulnerable to rain-induced hazards.
"We have provided the top 10 list of high-risk areas for both rain-induced landslide and flood but time and again, we reiterate that if you are not in the list, it doesn't mean that you have no risk on landslide and flood," she said in an interview.
The 10 of the identified towns were the shortlist of the high-risk areas out of the 43 local government units of the province.
"We have to shorten the list into ten high-risk but there are some areas that are also high risk from rain-induced landslide and flood," she said.
These towns are urged by the DENR-MGB to consult their geo-hazard map especially when typhoon advisories are being raised by the Philippine Atmospheric, Geophysical and Astronomical Services Administration (PAGASA).
"When there is announcement from PAGASA, since they are rain-induced landslide, they have to be prepared to be evacuated," Magarso said.
She said the DENR-MGB also sent advisories to the towns before the Typhoon Ursula hit on Christmas Day.
Due to Ursula, Magarzo said Balasan, Batad, and Carles towns, which were hard hit by the typhoon, are now under the low to very high classification for rain-induced landslide and flooding risks.
"Since there were reported landslide and flooding, before (the towns of Balasan, Batad, and Carles) were classified as low to high but with Ursula we updated it to be low to very high for both landslide and flood," she said.
She said the DENR-MGB is gearing to conduct an information and education campaign on the three municipalities, among other local government units in the province, for the local officials to be updated of the geohazard assessment.
With this, local government units will understand and interpret the geohazard maps and prepare for evacuation when disasters occur.
Defensor has sought for a hazard map review to re-identify areas prone to flooding and other dangers. This, as the northern Iloilo towns which were often unaffected by flooding, were not spared to the wrath of Ursula.
Defensor noted that evacuation of residents in typhoon-ravaged areas was affected by the belief the northern Iloilo towns will not be flooded. (PNA)