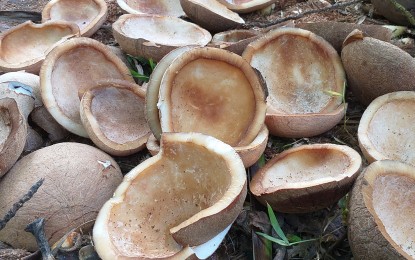 PALO, Leyte -- The Philippine Coconut Authority (PCA) is upbeat that higher copra price will prevail in the next two to three years, improving the income of nearly 400,000 families in the Eastern Visayas Region.
Average farm gate price of copra, a major by-product of coconut rose to PHP18.36 per kilogram this week from PHP15.53 early of December 2019, according to PCA's price watch data.
The current copra trading price is way better than the PHP12.11 per kilogram recorded in the same period in 2019.
PCA regional coconut regulation officer Benjamin Yu said on Wednesday that based on historical trend, the price of copra goes up for two to three years after a three-year consistent price drop.
"The demand for coconut oil has been rising in the world market as more processors realize that it has better quality than competing products such as palm oil. The price of palm oil has also increased late last year, making coconut oil more affordable," Yu told the Philippine News Agency (PNA).
The PCA projected a better price after they noticed that a coconut oil processor in Samar bought a lot of copra late last year as they forecasted that its price would adjust in 2020.
Copra price in the country has declined remarkably in the past three years. From PHP54 per kilogram in January 2017, it dropped to PHP33.94 a year after. The price further declined to only PHP13.39 in January 2019 and it remained until November.
It was only in December last year that copra price started to increase at PHP16 per kilogram.
Copra is the dried meat or kernel of the coconut. Premium oil is extracted from copra. It also yields coconut cake after oil extraction, which is mainly used as feeds for livestock.
The improving copra price will benefit 367,234 coconut farmers and their families in the region. PCA estimated that 1.83 million people or nearly half of the 4.4 million population of the region are dependent on coconuts.
The government has no control over the fluctuating copra price since it is dictated by the global oil market dominated by palm oil and soybean oil with a share of 35 percent and 26 percent, respectively.
"Even if the country has been shipping 80 percent of our coconut by-product overseas, the share of the local produce only accounts 3 percent in the global edible oil market," Yu said.
The unstable copra price has been affecting the livelihood of thousands of families in the region. The National Economic and Development Authority (NEDA) regional office here said a coconut farming family nets only PHP35,358 a year or PHP2,946 monthly.
This level of income is less than a third of the average income of a family in the region. The situation is much worse for tenants since they only receive 50 percent of the farm they are taking care of, NEDA said.
The region is the fifth top coconut-producing region in the country with an average copra production of 320,000 metric tons every year. (PNA)