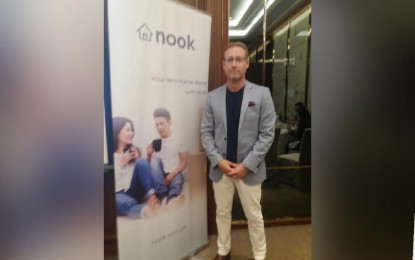 MANILA -- A financially-backed property fintech firm on Wednesday launched the first-ever online mortgage broker platform in the Philippines that makes the property loan application process easier and more efficient.
The platform, Nook, will enable Filipinos to conduct entire property search, do loan comparisons, and experience a seamless loan application process online.
In a press briefing Wednesday, Nook's chief executive officer Chris Elder said finding out online if one is qualified for a home loan from partner banks takes only three minutes.
Elder said the platform will then provide information and bank requirements.
"We will work with the bank to get your loan approved and then you are all set," he said, adding that Nook has teamed up with eight top banks in the Philippines, including AUB, BDO, BPI Family Savings Bank, Bank of Commerce, CTBC, China Bank, RCBC, and Security Bank.
Elder said they aim to bring five more banks this year into the platform.
"Borrowers do not have to visit a bank branch until (the) final document signing, saving time in traffic and bank queues… All housing loans in one place," he added.
In line with an aim for Nook to be the number one originator of housing loans within five years, Elder said it will start rolling out one to two kiosks by mid-year as it pilots retail presence.
"At first, we don't expect too much of an uptick (in the number of borrowers). It is still new here but I believe in the coming years, as people slowly get used to it, we expect strong growth from two years onwards," he said.
Elder sees robust growth in the next few years, noting the Philippines is an emerging economy growing at 6.2 percent.
"Market is adopting the internet as a place to do business. Residential real estate loans (RREL) (are) growing at 10.6 percent year-on-year," he added.
Nook also believes this is an opportune time for the Philippines to adopt the trend and practices of the industry in countries such as Australia and the United States, where over 60 percent and 68 percent of borrowers, respectively, go through mortgage brokers instead of direct-bank applications to secure a housing loan. (PNA)