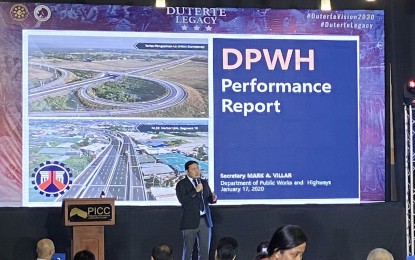 MANILA -- The government remains committed to its promise to decongest the Epifanio delos Santos Avenue (Edsa) through the construction of various road and infrastructure projects which can serve as alternate routes for motorists.
"We're well underway in fulfilling the promise of our President at the beginning of his term," Department of Public Works and Highways (DPWH) Secretary Mark Villar said on Friday in his report during the launch of the Duterte Legacy campaign at the Philippine International Convention Center in Pasay City.
Villar said the PHP384 billion worth of infrastructure project is underway to reduce traffic congestion on the thoroughfare which spans six cities -- Caloocan, Quezon City, San Juan, Mandaluyong, Makati and Pasay.
"In the coming years, more road spaces will be constructed to provide motorists alternative routes to the heavily-congested 23.8 kilometers Edsa. In close coordination with national government agencies, local government units, and the private sector, we are pushing for the swift completion of our flagship infrastructure projects that will provide a lasting solution to gridlocks in the National Capital Region (NCR)," Villar added.
He said the DPWH right-of-way (ROW) Task Forces for flagship projects are directed to intensify ROW acquisition efforts to ensure timely completion of projects in Mega Manila.
Villar reported that major road and bridge projects that are up for completion this year include the 2.60-kilometer North Luzon Expressway (NLEX) Harbor Link R-10 Exit Ramp, and the 3.2-kilometer Mindanao Avenue Extension Segment 2C.
Other projects are the 18.30-kilometer Metro Manila Skyway Stage 3, the 6.94-km Laguna Lake Highway, the 3.3-km Fort Bonifacio-Nichols Road (Lawton Avenue) widening to accommodate more vehicles, and the Bonifacio Global City-Ortigas Center Link Road Project.
The DPWH is also set to begin civil works on the 8.35-kilometer NLEX Harbor Link Segment 8.2, and the Pasig River & Manggahan Floodway Bridges Construction Project inclusive of three bridges -- North & South Harbor Bridge, Palanca-Villegas Bridge, and the Eastbank-Westbank Bridge 2 crossing Manggahan Floodway.
Based on the agency's projected schedule, the public may expect the opening of the eight-kilometer NLEX-SLEX Connector Road, the 680-meter Binondo-Intramuros Bridge connecting Intramuros and Binondo, and the 506-meter Estrella-Pantaleon Bridge connecting Estrella, Makati to Barangka Drive, Mandaluyong in 2021.
Slated to open in 2022 is the NLEX Harbor Link Segment 8.2; 2.39-kilometer Section 1 Phase 1 of the 32-kilometer Southeast Metro Manila Expressway, C-6.
Meanwhile, the 2.02 km North & South Harbor Bridge connecting North and South Harbor, the 438-meter Palanca-Villegas Bridge connecting A. Villegas and Carlos Palanca Streets, and the 929-meter Eastbank-Westbank Bridge 2 connecting Eastbank Dike Road and Westbank Dike Road at Cainta, Rizal are scheduled to open in 2023.
"President Duterte has the vision and the political will to execute the Build, Build, Build program," he added. (PNA)