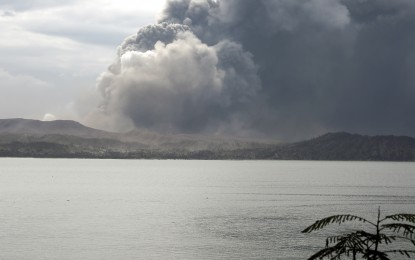 MANILA -- Bangko Sentral ng Pilipinas (BSP) Governor Benjamin Diokno said he had expected that the eruption of the Taal Volcano will have a limited impact on the domestic economy's growth this year.
In a briefing Friday, the central bank chief said while the National Capital Region (NCR); Cavite, Laguna, Batangas, Rizal and Quezon (Calabarzon); and Central Luzon account for a big chunk of the country's expansion, only Batangas is most affected.
"I think NEDA (National Economic and Development Authority) has already made an assessment and so with the absence of any assessment on our part, we'll go along with NEDA and it's not going to affect too much both the inflation and the growth path," he said.
Taal Volcano erupted on January 12 and generated ashfall that reached as far as some parts of Laguna, Cavite, and Metro Manila.
Alert Level 4 is still raised over Taal Volcano but Diokno said the government is planning to downgrade this to Alert Level 3 after the volcano quieted for some days now.
The central bank chief also noted that the impact of the eruption on agriculture has been limited since the whole economy's size is about PHP18 trillion.
"When I was asked about this, three days ago, I said it's too premature for their speculation. So let's not give some numbers because we don't know. The volcano eruption is so unpredictable. Maybe tomorrow, it will normalize already or it could be for a long period. So we don't know," he added.
In terms of inflation rate, monetary officials have forecast that the rate of price increases would normalize this year from the low rates last year.
Based on the assessment of the policy-making Monetary Board last December, average inflation is seen to be about 2.9 percent this year, which will be at the lower half of the government's 2 percent to 4 percent target band. (PNA)