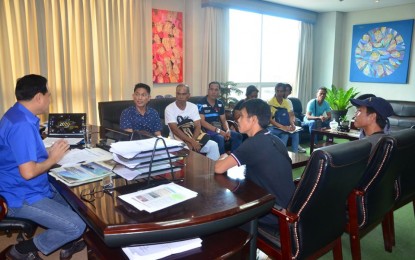 ILOILO CITY -- The excavation and alleged treasure hunting activities in Pasong village, Igbaras town have alarmed local government officials and residents as they pose risks of landslides.
Igbaras Mayor Jaime Esmeralda and Pasong village officials on Thursday sought the help of Iloilo Governor Arthur Defensor Jr. to stop the excavations.
Esmeralda said a group of 10 diggers was involved in the excavation that covered a 1, 000-square-meter area.
"They have been doing that for one-and-a-half years already. There is a possibility that the soil (would) erode because the more they excavate, the more the base of the soil softens," he said in an interview Friday.
At-risk are nine households around the area.
The Igbaras municipal police was tasked to investigate the matter but they were being driven away by the group.
"Investigation is being done. We called the attention of the (person) in charge but he insisted to continue the activity. They also banned the police there," Esmeralda said.
He said they have asked the group represented by a certain Laquihon Bayogos to show their permit to excavate.
"They have not sought a permit from the provincial and local government units, and even (at) the village level," Esmeralda said.
However, Bayogos said they have secured a "Treasure Hunting and Disposition of Recovered Treasures Permit" from the National Museum of the Philippines signed by Angel Bautista, acting assistant director and chief of the Cultural Properties Regulation Division.
Esmeralda said he asked the National Museum of the Philippines to verify the permit.
Defensor, meanwhile, assured the local officials of Igbaras that they would settle the issue as he relayed the concern to the Provincial Legal Office and Provincial Environment and Natural Resources. (PNA)