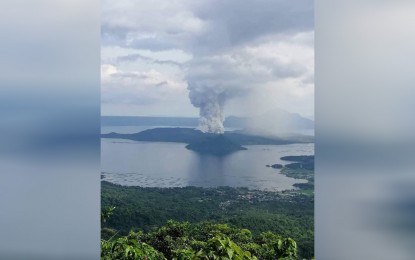 MANILA -- The Taal Volcano's eruption has so far had a minimal impact on the economy as the government starts laying down the groundwork for the rehabilitation of the affected areas, a ranking official of the socioeconomic planning agency said Monday.
"We don't see it having a major effect unless there will a violent eruption," National Economic and Development Authority (NEDA) Undersecretary for Regional Development Adoracion Navarro said in a press briefing.
Navarro said some establishments in Tagaytay City have begun operating again.
Based on a preliminary assessment, she estimated the foregone income in economic sectors from the impact of Taal Volcano's eruption at PHP4.3 billion, or 0.17 percent of the 2018 gross regional domestic product (GRDP) of Calabarzon (Cavite, Laguna, Batangas, Rizal, and Quezon).
"That's the scenario, considering the effects on industry and services within the 14-km. radius," she said.
Navarro noted that the estimated income losses in the economic sectors are higher at PHP6.66 billion, or 0.26 percent of last year's GRDP of Calabarzon, taking into account the effects on industry and services within the 17-km. radius.
Socioeconomic Planning Secretary and NEDA Director General Ernesto Pernia said the estimated economic foregone income does not include damage to infrastructure and public and private assets.
"But note that in any disaster like typhoons, in the aftermath of typhoons and volcanic eruptions, it's going to be a lot of economic activities in terms of reconstruction and rehabilitation, and it is going to create jobs and stimulate the economy. Government spending will be substantial, so that will stimulate the economy and the multiplier effects (will) at least partly compensate for the foregone income, and then maybe some of infrastructure and asset damages," Pernia said.
Navarro said they have begun laying down the major components of the rehabilitation plan for the affected areas.
"We will do the same process. We will gather the agencies to do what is called Post-Disaster Needs Assessment," she said, adding that NEDA would consolidate information from concerned government agencies and determine how these can be incorporated in the rehabilitation plan.
Navarro further said they would adjust their assessment of the economic impact in case of a violent volcanic eruption.
"What we are doing is to look at the possible measures to fast-track the rehabilitation, like we are looking at the availability of resources, the NDRRM (National Disaster Risk Reduction and Management Council) fund, what other mechanisms we can implement," she said.
Taal Volcano began spewing ash on January 12.
Navarro said that as of January 20, some 393,863 evacuees have been directly affected.
"But we hope that as some of them will really slide back to poverty, it will only be temporary because the government has funds for the rehabilitation and the recovery of these families and also the economic sectors," she added. (PNA)