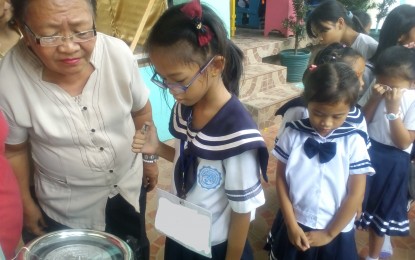 TACLOBAN CITY -- The National Nutrition Council (NNC) has called on parents to submit their 0-59-month old children to the annual Operation Timbang (weighing) (OPT) Plus.
NNC Eastern Visayas senior nutrition officer Niño Archie Labordo said on Thursday OPT seeks to identify and locate malnourished children in the community, which is essential in the local planning of priority nutrition programs.
"This is the only data locally available for nutrition program planning. The local government units (LGUs) can use the results in identifying programs and activities they can integrate into their annual investment plan," Labordo said.
The OPT Plus, done on the first quarter each year, determines who among those below five years old in the community are stunted, wasted, underweight, and obese, by measuring the child's height and weight.
With this, those identified as severely acute malnourished or severely wasted children will be recommended for rehabilitation and management under the Department of Health, where they will be provided with ready-to-eat therapeutic food.
The NNC also processes the results to generate a list of nutritionally-at-risks cities and towns which are disseminated to government and non-government organizations to be given priority on nutrition programming planning and interventions.
In Eastern Visayas, he noted that the challenge is to obtain at least 80 percent of the target coverage regionwide.
"For the past years, the only data gathered is from the 60 percent of the target and more is needed, at least 80 percent to determine the overall nutritional status of children in the region," Labordo said.
In 2018, only 444,973 or 57.3 percent of the estimated 776,218 target children were covered by OPT Plus in Eastern Visayas.
The NNC urged LGUs through its municipal or city nutrition action officer to closely guide and coordinate with the barangay (village) nutrition scholars (BNS) to attain the target coverage.
The BNS, tasked for the annual weighing and height measurements must have the technical know-how on how to properly conduct OPT.
"We want to achieve the most accurate results. We provide technical assistance and demonstration on how to use the instruments or they can ask help from the local health unit," Labordo added.
Ideally, the BNS personally conducts the OPT in homes where the target child lives or may be held in village halls, health station, daycare center, nutrition post, or at any place easily accessible to the target population.
The NNC also asked the support of the village officials for the efficient implementation of the program. (PNA)