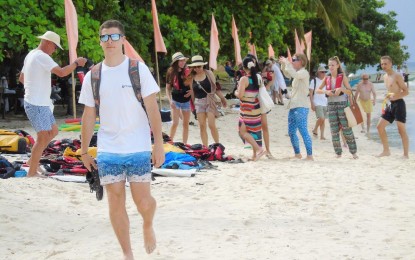 MANILA -- The Philippines' foreign tourist arrivals hit 7.4 million in the first 11 months of 2019, up by 15.58 percent compared to the same period in 2018, the Department of Tourism (DOT) bared on Friday.
For the first 11 months of 2019, DOT data showed that South Korea remains the country's top tourist market with 1,785,357 tourists, followed by China with 1,626,309, and the United States with 954,952.
China was the fastest-growing market, with a growth rate of 40.2 percent from the previous period in 2018.
"We are just happy that our collective efforts paid off with the yearend projections indicating an outstanding performance of the tourism industry," Tourism Secretary Bernadette Romulo-Puyat said.
The latest figures were released by the department on Friday, weeks after it welcomed the 8 millionth foreign tourist to Manila.
The department targeted to reach 8.2 million foreign tourists last year. But with the 8 millionth tourist arriving four days before 2019 ended, Romulo-Puyat estimated that the country would at least hit 8.1 million of the target.
"If the December figures are the same as last year, for sure we're going to be getting at least 8.1 million visitors. The target is 8.2 million but as I always say, I'm still for the revenue than the numbers. It's still good," Romulo-Puyat told reporters during the press conference.
She said Boracay remained as the top tourist destination last year, with 1.6 foreign visitors, followed by Cebu which attracted 1.4 million tourists, and Davao del Sur with 1.3 million.
Meanwhile, Romulo-Puyat said the DOT continues to firm up the country's sustainable tourism development program.
"The continued increase in tourist arrivals through November ensures we would have achieved a year-end total that surpasses that of the previous year. But what is more important is we have launched a successful movement for sustainable tourism," she said.
The data on international visitor arrivals are based on the Arrival Cards filled out by foreign nationals and collected by the Bureau of Immigration.
For November alone, South Korean visitors reached 176,185, while China came in second with 126,785, followed by the US with 82,617 arrivals. (PNA)