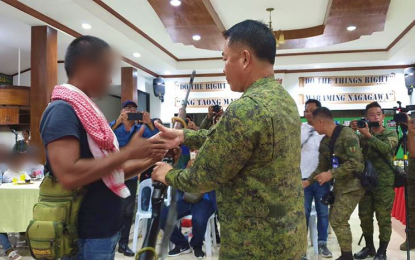 CAMP SIONGCO, Maguindanao -- Optimistic that the new regional government will help them improve their lives, 16 members of Islamic State-linked Bangsamoro Islamic Freedom Fighters (BIFF) surrendered to military authorities in Maguindanao on Saturday.
Twelve of the surrenderers gave up to officials of the Army's 33rd Infantry Battalion (IB), led by Lt. Colonel Elmer Boongaling in Sultan sa Barongis town, while the four other BIFF members yielded to Lt. Colonel Rogelio Gabi, Army's 40IB commander, in Gen. S. K. Pendatun town, also in Maguindanao.
They were presented to 6th Infantry Division assistant commander, Brig. Gen. Juvy Max Uy, at this camp in the presence of civilian officials including Bangsamoro Autonomous Region in Muslim Mindanao (BARMM) spokesperson and interior minister Naguib Sinarimbo.
BIFF field commander Wazre Kompas told military officials that his group is tired of fighting and running away from air and ground attacks of government forces.
"Now we have BARMM (Bangsamoro Autonomous Region in Muslim Mindanao) and we hope it will improve our lives," Kompas said in the vernacular.
After their presentation to the Army officials in Maguindanao, the former rebels received financial aid from BARMM through Sinarimbo.
"To date, more than 110 BIFF (members) in Maguindanao and Sultan Kudarat have surrendered to military authorities and are now working on their livelihood," Uy said.
He added the military will "always open its door" for those who wish to surrender, but will also continue hunting down lawless elements who sow fear in communities of the province. (PNA)