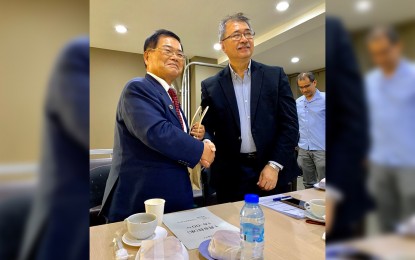 MANILA -- Filipinos may look forward to continuous partnerships in the field of science and technology (S&T) between Japan and the Philippines, Department of Science and Technology (DOST) Secretary Fortunato dela Peña said Wednesday.
Dela Peña said his Japanese counterpart, Information Technology Science Minister Naokazu Takemoto, visited the country earlier this month and expressed interest in expanding S&T collaborations with the DOST.
"It was Minister Takemoto who decided to come to the Philippines and meet with me," dela Peña told the Philippine News Agency (PNA), adding that they visited the University of the Philippines-Diliman Institute of Electrical and Electronics Engineering (IEEE).
"He was very happy to note that the faculty members and researchers manning the ULYSSES (University Laboratory for Small Satellites and Space Engineering Systems) in IEEE got their training and advanced degrees in Space Engineering in Japan, specifically from Tohoku University. They studied through the DOST scholarship program," dela Peña shared.
The other scholars studied Space Science at Hokkaido University, and Space Physics at Kyushu University, he added.
There will be more exchange of scholars, dela Peña confirmed.
"We had a meeting, together with representatives from DTI (Department of Trade and Industry), DOT (Department of Tourism), BSP (Bangko Sentral ng Pilipinas), private sector, Filipino Inventors Society Producers Cooperative, friends of the Minister. There was an assurance from both of us that the Philippines-Japan collaboration in the field of S&T will continue and will be expanded," he said.
"Exchange of scholars, particularly at the graduate level, will take place. PPP (public-private partnership) arrangements will be pursued, particularly in the translation of R&D (research and development) outputs into business or commercialization," he added.
Scholarships in Japan will be more in the area of Engineering, Space Science and Technology.
Dela Peña also mentioned that the Japanese government, through Japan International Cooperation Agency (JICA), will fund the establishment of a Philippine Earth Data Resource and Observation (PEDRO) in Dumangas, Iloilo.
"This will be the third PEDRO Center (in the country). The first two were funded by the DOST. These are located in Luzon and in Davao City for Mindanao. The third which will benefit from Japanese ODA (official development assistance) will be the one for the Visayas," he said.
According to DOST Undersecretary Renato Solidum, the cost shouldered by JICA for this project is roughly JPY70 million (more than PHP32 million), and the Iloilo Ground Receiving Station is expected to be inaugurated in June or July.
Meanwhile, dela Peña noted that Japan has been a partner of DOST for some years now.
In 2005, for instance, JICA collaborated with the DOST for the "Improvement of Packaging Technology for Philippine Food Products in the Regions" project.
The project aims to enhance the DOST Packaging Research and Development Center's capacity to upgrade packaging technologies of small and medium enterprises in the regions, to make their products more competitive in the local and export markets.
In 2017, JICA also collaborated with the DOST Food and Nutrition Research Institute for the "Verification Survey with the Private Sector for Utilizing and Disseminating Japanese Technologies for Low Protein Rice for Dietary Therapy of Chronic Kidney Disease (CKD) in the Philippines", according to dela Peña.
"Our DOST scientist implemented the study on the quality of life of non-dialyzed and dialysis patients with CKD after consumption of low protein rice and recipes in Metro Manila and Luzon hospitals," he said.
Dela Peña also noted that Japanese universities have teamed up with Filipino engineers for the creation of the country's microsatellites, the Diwata 1 and the Diwata 2. (PNA)