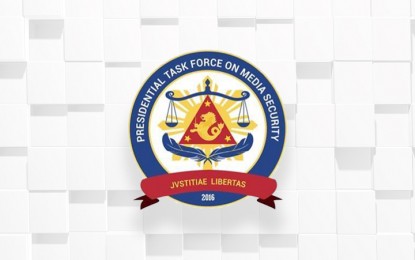 MANILA – The recent arrest of another accused in the 2009 Maguindanao massacre brought to four the number of suspects who are now under police custody over a month after the conviction of the principal respondents in the decade-old case, the Presidential Task Force on Media Security (PTFoMS) said on Wednesday.
Based on the latest data received by the PTFoMS Secretariat, Police Officer 1 Suari Esmail Pagabangan, also known as Alfie Pagabangan, was the latest suspect arrested by the police operatives at Barangay Barurao in Sultan Sa Barongis, Maguindanao on Monday (January 27).
"This government is making great strides in delivering what it has promised – to arrest all those suspects who are still in hiding," PTFoMS Executive Director, Undersecretary Joel Sy Egco said.
"It's a long struggle but the full weight of the Duterte Government is behind this effort and there is no reason for us not to succeed in this endeavor. As I've said time and time again, Failure Is Not An Option!," he added.
Before Pagabangan, police operatives arrested Gambayan Kasim, also known as Lori Alip, on January 9 in his home at Shariff Aguak in Maguindanao.
Kasim's arrest was effected just three days after Faisal Dimaukom was nabbed by a composite team led by Parang Municipal Police chief, Lt. Col. Ibrahim Jambiran, at Barangay Kabinge in Datu Saudi Ampauan, Maguindanao on January 6.
On January 21, PO1 Ysmael Baraquir, another suspect in hiding, surrendered to the Criminal Investigation and Detection Group (CIDG) Regional Field Unit 15 BAR led by Police Colonel James Gulmatico at Brgy. Linandangan in Pagalungan, Maguindanao.
The four suspects have a standing warrant of arrest issued by Judge Jocelyn A. Solis-Reyes of the Quezon City Regional Trial Court (RTC) on May 22, 2013.
"The 4th suspect to fall into the hands of the authorities in this month alone is a testament to the government's resolve to capture all those involved at the soonest possible time," said Presidential Communications Operations Office Secretary Martin Andanar, PTFoMS co-chair.
"We will not rest until all of them are under custody. I can assure all those who are still in hiding that they too, will not find rest unless and until they have surrendered. That, they can count on," he added.
Last month, Philippine National Police (PNP) chief, Gen. Archie Francisco Gamboa, ordered intensified nationwide manhunt operations for the remaining suspects in the Ampatuan massacre.
On December 19, 2019, Solis-Reyes announced the much-awaited verdict, finding 28 people, including masterminds Datu Andal Jr. and Zaldy Ampatuan, guilty for the murder of 57 people, including 32 media workers.
The 28 were sentenced to reclusion perpetua, or a maximum of 40 years, without parole.
The PTFoMS vowed to continue to monitor and inform the public on the developments of the on-going manhunt operations for the other suspects. (PR)