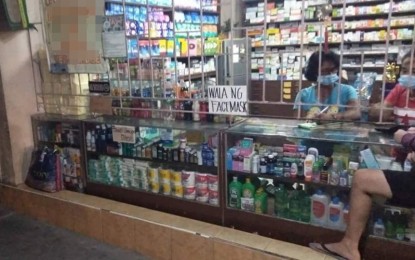 DAGUPAN CITY—The management of Region 1 (Ilocos) Medical Center (R1MC) here and the provincial government of Pangasinan refuted circulating information in social media about the alleged confirmed case of the novel coronavirus (2019-nCoV) in the province.
In a radio interview Friday, R1MC director, Dr. Joseph Roland Mejia said the public should not panic as there is still no case of 2019-nCoV in the hospital contrary to circulating posts and messages on social media.
"There is nothing to fear as long as you know how to take precautions and as long as you know the capacity of the viruses. Wait for the bulletins of the Department of Health (DOH) and we are protected by quarantine services of the DOH; monitoring ports and seaports. If we have admission, we will tell you," he said.
Mejia said a person could actually fight the 2019-nCoV if he has strong immune system.
The Provincial Health Office (PHO), on its official Facebook page, said there is still no case of 2019-nCoV in the province. It said posts on the alleged presence of the viral disease in the province are fake news.
In a forum on Friday, Dr. Marcelino Bartolome, internal medicine consultant-infectious disease specialist at the Pangasinan Provincial Hospital, said people who are susceptible to nCoV are those who are exposed or in contact with live wild animals such as bats, and those health workers caring for patients with nCoV.
"Seventy percent of the patients with nCoV are mostly 65 years old and above," he said.
Bartolome also said Pangasinenses need not wear an n95 mask as nCoV is not airborne but can be transferred by droplets.
"A surgical mask will do but since there is still no case of nCoV in the province then there is no need to wear a mask. N95 mask should be worn only for airborne precaution for areas with negative air pressure," he said.
Some stores in the province have run out of n95 and surgical mask following the announcement of DOH on the first case of nCoV in the country Thursday night.
The PHO has directed the 14 government-run hospitals of the province to monitor patients who have flu-like symptoms amid the nCoV numerous cases in neighboring countries.
"We have reminded them of the protocols that needed to be implemented just like when there was outbreak of severe acute respiratory syndrome and Middle East respiratory syndrome viruses. Patients are monitored starting at the emergency room. They should also trace the patient's history of travel," said PHO chief, Dr. Anna Ma. Teresa de Guzman, in a recent interview.
She said frequent and proper handwashing is still among the best ways to prevent the spread of any virus.
"We should always practice handwashing and to do it properly. We should sing 'happy birthday song' as we wash our hands, washing should be that long. Use soap and clean water, and wash even the in-between of the fingers," she said.
When coughing, she added, a person should cover his mouth with a handkerchief or towel. But if a person used his or her hand to cover his or her mouth while coughing, hand washing is again advised.
"Let us refrain from beso-beso (cheek to cheek greeting) or even handshakes (especially if a person is already sick) so as not to spread the bacteria or virus," de Guzman said.
She added that avoiding contact with exotic animals, such as bats and snakes, is also advisable.
"Drink a lot of water since with a dry throat, a person could easily be infected by bacteria or viruses. If flu-like symptoms appear, go immediately to the nearest health center or hospital," de Guzman said. (PNA)