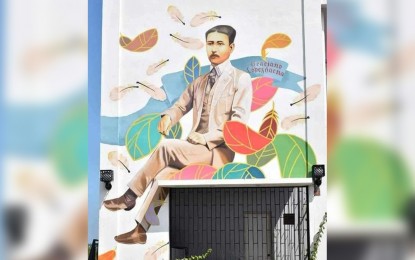 ILOILO CITY – This highly urbanized city is slowly becoming a center for culture and arts.
"That is one of our dreams even before. We want to be the center for culture and arts, slowly we are going there," said Junel Ann Divinagracia, city tourism and development officer in an interview Monday.
Vacant spaces in Iloilo City have been adorned with paintings. The murals were done by various artists in this city.
Divinagracia attributed the wall paintings to the aggressive promotion of public art by the local government. She said that it's "fortunate that the mayor and his wife are art lovers".
"They pushed for public art. The mural was first done in Sambag (Jaro district)," she added.
Since then, more artists and muralists started giving their talents to the city, Divinagracia said.
"Probably our artists have seen that they have the limelight; that they are given chances and opportunities to showcase their talents," she added.
With murals making waves as additional attractions in the city, Divinagracia said that she is appealing that they won't be subjected to vandals.
"It's an added tourist attraction. They are instagrammable. With just one click, it can go viral and can help in the promotion of our city. I hope there are no vandals, and everyone will cooperate in apprehending vandals," she added.
Apart from walls, the city's bridges also become subject of colorful paintings. Mayor Jerry P. Treñas said that it is similar to Singapore where its three bridges were painted by Filipina artist Pacita Abad.
Treñas said that all vacant spaces in the city will be painted to make them "become more creative". He added that the paintings will inspire the younger generation to be more creative.
"We want them to be more creative because the colors, the paintings inspire our children to be more creative and to find other sources. In the future, when they take over, they will find more creative responses to the city's problems," the mayor said.
Meanwhile, apart from the murals, the city tourism officer is also inviting tourists to come and visit various art galleries in the city.
Divinagracia said that with a lot of artists in Iloilo, some have embarked on a one-man exhibit while others have formed a group and created galleries.
The artists, she added, saw they are being recognized. There are a lot of art lovers and paintings selling like hotcakes.
Currently, 13 galleries and museums are operating in Iloilo City, data from the City Tourism and Development Office (CTDO) showed. They showcase various visual arts collections while one serves as an art gallery and antique shop.
The galleries include the Art Deck Gallery by the John B. Lacson Foundation Maritime University (JBLFMU); Ceramico Arts and Crafts by Nerissa Luger; Cinematheque Iloilo, Film Development Council of the Philippines; Et Nos Gallery, Angelicum School Iloilo; Galerie De Arsie by Arsenio Rafael III; Gallery-I; Guevarra Gallery Arts and Antiques; UPV Cinematheque Film Museum by the University of the Philippines –Visayas; Mamusa Art Gallery; Omriel Art Gallery; Molo Mansion Gallery by SM City Iloilo; Museo Iloilo Art Gallery Section and the Iloilo Museum of Contemporary Art by the Megaworld Corporation.
Aside from the Museo Iloilo and the Iloilo Museum of Contemporary Art that charge minimal entrance fee, admission in the other galleries is free, said Divinagracia. (PNA)