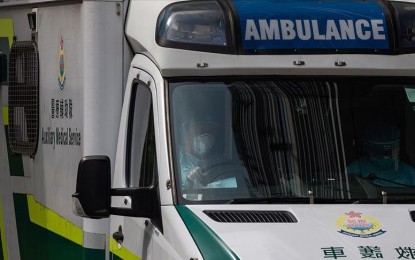 ANKARA -- Hong Kong on Tuesday reported its first death due to the fatal novel coronavirus, known as 2019-nCoV, which originated in central China in December.
At least 426 people have died of the disease in China itself, China's CGTN news reported.
The deceased, 39, was a long-time diabetic who had traveled to Wuhan -- the epicenter of the virus -- in January and returned home after two days, Hong Kong Free Press reported.
The autonomous region has reported 15 cases due to the virus, which has affected over 20,000 others in China.
One person, a 44-year-old Chinese man from Wuhan, died of the same disease in the Philippines, health authorities reported last Sunday.
The Hong Kong victim, whose identity remains unknown, had experienced pain in muscles since Jan. 29 followed by fever.
He was hospitalized at Queen Elizabeth Hospital in Yau Ma Tei for treatment and later transferred to Princess Margaret Hospital in Kwai Chung where he died.
The number of people affected by the virus reached 15 in Hong Kong, while Macau reported eight cases. Both Hong Kong and Macau are special administrative regions under China.|
Hong Kong Chief Executive Carrie Lam said on Tuesday that strike by medical employees had affected the hospital services and patients, especially those in critical condition.
The medical employees are demanding a total shutdown of the border with the Chinese mainland.
Besides China, the virus has spread to more than 20 countries, including Japan, South Korea, Thailand, the U.S., Singapore, France, Russia, Spain, Vietnam, Malaysia, Cambodia, Sri Lanka, the Philippines, India, and Canada.
1st confirmed case in Belgium
Belgium has confirmed the first case of the new coronavirus in its territory, local media reported on Tuesday. The patient is one of nine Belgian citizens who were evacuated from Wuhan, China on Sunday.
The repatriated were immediately quarantined and tested for coronavirus in a military hospital close to Brussels. Only one of them was diagnosed positive and was transferred to the capital's St Peter's Hospital.
"Other infections can't arise from this case. The patient is isolated, will be quarantined for two weeks and recover in a few days," virologist Marc Van Ranst told Belgian media outlet VRT Nieuws.
The virus is said to have been transmitted to humans from animals, particularly bats.
It raised alarm globally with cases reported across Asia, Europe, the U.S., and Canada.
The World Health Organization declared the outbreak an international emergency.
The U.S. declared a public health emergency due to the new type of coronavirus.
Russia on Saturday suspended the visa-free travel for tourists to and from China.
Travelers from China are being screened for the virus at airports worldwide and several airlines suspended flights to Wuhan.
Japan, South Korea, U.S., Australia, Pakistan, India, France, Germany, Indonesia, Malaysia, and Turkey evacuated their citizens from Wuhan. (Anadulo)