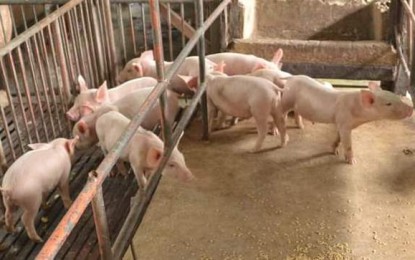 BACOLOD CITY -- More swine have been sold in livestock auction markets in Negros Occidental last year despite the African swine fever (ASF) scare that hit the country in the latter part of 2019.
Figures of the Provincial Veterinary Office (PVO) showed that for swine alone, there was an increase of 9.64 percent in the number of heads registered in six auction markets in the province.
In 2019, a total of 63,067 heads have been registered, which is 5,550 more compared to only 57,517 auctioned in the previous year.
While comparative data showed a decrease in sales in other animal commodities, the number of swine sold by Negrense raisers increased by 6,080 heads to 61,316 in 2019 from only 55,236 in 2018.
Dr. Renante Decena, provincial veterinarian, said on Wednesday this indicates that buyers from neighboring provinces, such as Cebu and Iloilo, still prefer to source their hog supply from Negros Occidental, which has remained ASF-free.
In the province, six active livestock auction markets are operated by the local government units registered with the Bureau of Animal Industry.
These are located in the cities of Sagay and Kabankalan, and the municipalities of Salvador Benedicto, Calatrava, Moises Padilla, and Hinoba-an.
As early as September last year, Governor Eugenio Jose Lacson ordered a 90-day ban on the entry of pork and pork by-products from Luzon, where the first cases of ASF in the country have been reported.
By December, Negros Occidental started enforcing an ordinance prohibiting the entry of similar products from Luzon, and countries affected by the ASF.
Negros Occidental, the country's top backyard swine producer, has a current population of some 550,000 live pigs.
On Monday, Negros Occidental has also prohibited the entry of live pigs, pork products, and pork-based items coming from the Davao region after a positive case of ASF has been confirmed in Davao Occidental. (PNA)