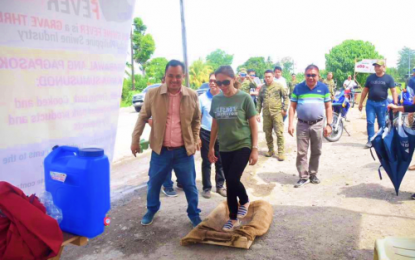 KIDAPAWAN CITY – North Cotabato Governor Nancy Catamco joined the Provincial Task Force on African Swine Fever (ASF) in commencing the operation of the provincial quarantine station in Barangay Bual, Tulunan town on Thursday.
The activity also signaled the simultaneous opening of quarantine stations in all major entry points of North Cotabato in the towns of Carmen, Pigcawayan, Banisilan, Makilala and other areas.
The launching of the quarantine stations formed part of the recent ASF prevention action plan crafted by the provincial ASF-Task Force (TF) to impede the entry of the highly-contagious hemorrhagic viral disease on swine in North Cotabato.
"The quarantine station will serve 24 hours on seven days routine (24/7) to ensure that ASF will be prevented into affecting the swine production of the province," Catamco said.
The stations, which would be manned by personnel from the Office of the Provincial Veterinarian, will conduct strict inspection and disinfection to commuters; all types of vehicles, specifically those carrying live animals; animal products; and by-products particularly of swine origin.
"Aside from the quarantine stations, the task force will also implement the banning of swine, swine products (meat) and by-product coming from infected areas," the governor added.
Included in the mandate of the ASF-TF will be the strengthening of information and education campaign to ensure that farmers are well informed of the ASF and the prevention of the animal disease.
Only recently, the province of Davao Occidental issued a lockdown on all live hogs and meat products following the infection of more than 1,000 swine in Don Marcelino, Davao Occidental, about 150 kilometers away from North Cotabato.
Catamco said that the creation of task force was a preventive action on the part of the government and hoped that the public will cooperate to stop the spread of the swine disease. (PNA)