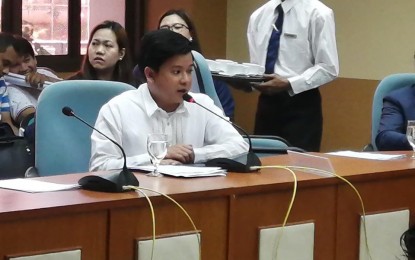 MANILA -- The Presidential Communications Operations Office (PCOO) said Wednesday it is targeting to achieve an 80-percent success rate in processing electronic Freedom of Information (FOI) requests by the end of the Duterte administration in 2022.
In a briefing with the House Committee on Public Information, PCOO assistant secretary and FOI program director Kristian Ablan reported that the number of successful eFOI requests has increased from 41 percent in 2017 to 47 percent in 2019, noting that there was also an increase in the number of government offices in the eFOI portal from 15 agencies in 2016 to 447 agencies in 2019.
"From 2016 to 2019, we can see an increasing trajectory on those complying the FOI. We have almost 500 agencies on the FOI website. This is the progress of the success rate from 41 percent in 2017 all the way up to 47 percent in 2019. Our target is to reach 80 percent success rate by the end of the term," Ablan said in a mix of English and Filipino.
Ablan cited that the FOI compliance in 2019 for national government agencies already reached 100 percent, government-own and controlled corporations at 92 percent, state universities and colleges at 96 percent, and local water districts at 41 percent.
Ablan said there were 24,753 requests made through the e-FOI portal, while there were 29,490 paper-based requests recorded, thus bringing the total number of FOI requests to 54,243.
During the briefing, Ablan also discussed the salient features of the FOI bill, which contained salient features such as the no wrong door policy, the creation of an FOI commission, and an efficient records management.
On July 23, 2016, President Rodrigo Duterte signed Executive Order (EO) 2 on FOI as part of his campaign promise to allow Filipinos to obtain documents and records from public offices in a bid to promote transparency in the government under his leadership.
Under the EO, a Filipino citizen can request any information about the government transactions and operations by presenting proof of education to concerned state office or lodging queries online through official website www.foi.gov.ph.
An FOI request can be made before all government offices under the executive branch, including government-owned or -controlled corporations (GOCCs), and state universities and colleges (SUCs).
Requesting parties can have access to information, official records, public records, and documents and papers pertaining to official acts, transactions or decisions, as well as to government research data used as basis for policy development. (PNA)