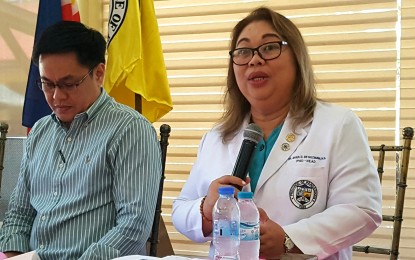 LINGAYEN, Pangasinan -- The Provincial Health Office (PHO) has refuted misleading information circulating in social media about the condition of the first person under investigation (PUI) in Pangasinan due to coronavirus disease 2019 (Covid-19).
In a press briefing Thursday, PHO chief, Dra. Anna Ma. Teresa De Guzman said the health condition of 28-year-old female PUI is improving while currently admitted and quarantined at the Region 1 Medical Center (R1MC) in Dagupan City since Feb. 10.
De Guzman said it is important for the PUI to be admitted in the hospital for 14 days for the conduct of laboratory tests like throat swab and blood testing.
Based on the investigation of health authorities, the PUI traveled to Taiwan on Feb. 4 and went back on Feb. 8 with flu-like symptoms.
Meanwhile, the family members of the PUI have been considered as persons under monitoring (PUM) as they had close contact with the PUI.
"Aside from having close contacts with PUI, other criteria for a person to be considered as PUM is the travel to countries with Covid-19 and exposure despite not showing any signs and symptoms of the virus," de Guzman said.
She said the family members are now self-quarantined in their house and are being visited by staff of the PHO twice a day to check their vital signs.
"The 63-year-old father of the PUI is currently suffering from cough and we already provided him medicines. Based on our interview, he did not have close contact with her daughter," she added.
The family will also be observed within 10 to 14 days.
Meanwhile, Governor Amado Espino III, through provincial administrator lawyer Nimrod Camba, has issued a public advisory on the postponement of events of the provincial government effective Feb. 13 until mid-April this year.
The provincial board on Monday passed a resolution discouraging local chief executives and barangay chairpersons in Pangasinan from having crowd-drawing activities in their jurisdictions. (PNA)