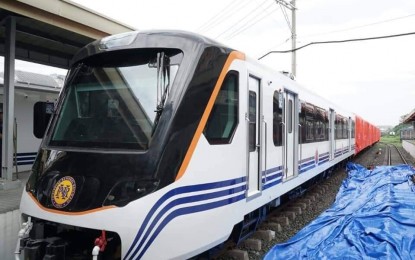 MANILA – The Philippine National Railways (PNR) has two new train sets that would ply its Tutuban-Alabang route.
In an interview following the unveiling ceremony at the Tutuban Station on Friday, PNR General Manager Junn Magno said the sets are new Diesel Multiple Unit (DMU) 8100 series train cars purchased from PT Inka, a rolling stock manufacturer owned by the Indonesian government.
The two new trains, which consist of three and four cars each, can carry 250 passengers per car, he said.
Magno said train frequency for the route could remain at once every 20 minutes if the route is extended, or it could be shortened to within 15 minutes along the Tutuban and Sucat route.
"Kung ilalayo namin yung biyahe, 20 minutes pa rin. Pero kung paglalapitin namin, baka umabot dun between Tutuban and Sucat, baka within 15 minutes may bumiyabiyahe na (If we extend the journey, it will still be 20 minutes. But if we make it closer, between Tutuban and Sucat, maybe within 15 minutes)," he said, adding that the train's arrival frequency would further improve with two more trains to come.
The trains will be put into service on Tuesday next week.
Due to the "common carrier" status of PNR, Magno said the first 450 hours of the trains would be free-of-charge to passengers.
"Tatanggap po kami ng pasahero simula Tuesday -- dahil in validation pa siya, libre pa ang pasahe, 450 hours (We will receive passengers by Tuesday -- but because the trains will still be under validation, the fare will be free for the first 450 hours)," he said.
During the testing phase, which will begin with "static testing", Magno said personnel of PT Inka would be present to help the PNR identify and address any issues found, as well as train PNR personnel on proper maintenance of the trains.
Since the operationalization of two new train sets in December last year, he said the passenger volume of the PNR has increased dramatically.
From a meager 20,000 to 30,000 daily passenger capacity in 2017, Magno said they have increased the capacity of the PNR's old fleet to 60,000 in 2018.
With the new trains, Magno said the PNR would have a daily passenger capacity of 152,000, with the new trains adding 92,000 daily passenger capacity to the rail service.
A total of seven train sets were recently purchased using the PNR's savings and a budget released by Congress in 2018, Magno said, noting that these consist of four sets of DMU 8100 series trains, each composed of four train cars, and three sets of Diesel Hydraulic trains composed of five rail cars and one locomotive each.
"Yung tinatawag namin na Diesel Hydraulic, yun yung train na ginagamit namin na lumulusong sa baha. Parating ng around April (The ones we call Diesel Hydraulic, those are the trains that are capable of wading in floods. These will be delivered around April)," he said.
Following past incidents of rocks being thrown at PNR trains, Magno said all new trains purchased from PT Inka were fitted with polycarbonate windows, which are more resistant to damage compared to regular glass windows of old PNR trains.
"Polycarbonate na 'to, hindi na to salamin. Katulad nung dalawa naming bago, binabato yun pero hindi naman nababasag (This is polycarbonate, not glass. Just like our other two new trains, they get hit by rocks but they don't shatter)," he said, adding that all PNR trains, including its older fleet, would eventually be fitted with polycarbonate windows. (PNA)