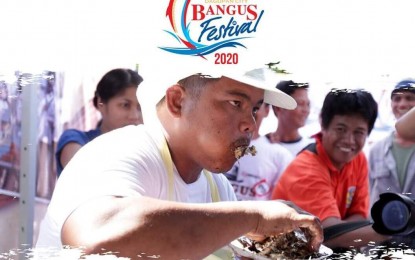 DAGUPAN CITY -- The city government here is in the thick of preparations for the annual and most awaited Bangus Festival set on April 20 to May 1, but with the option to cancel, amid the threat of the coronavirus disease 2019 (Covid-19).
"We are doing our groundwork, we are preparing for it. We are very transparent to our sponsors and to those who would like to have an event during the festival. We tell them should the situation with Covid-19 escalate or worsen, we will cancel the holding of Bangus Festival," said Mayor Marc Brian Lim, in an interview Friday.
He said the festival committee still has two months to assess the situation. Lim is the chairman of the festival executive committee.
"We will bring the festival back to the people by bringing back the Kalutan ed Dalan (grand street party) in the city's downtown area. We will also involve the Perez Boulevard side, and we will reach out to SM Center Dagupan (located at M. H. Del Pilar Street) for sponsorship of one stage somewhere there," he said.
He added that a number of interested corporate sponsors had signified their intention to support the festival.
Bangus or milkfish, is the top product of this city.
For this year's edition of Bangus Festival, organizers have lined up the traditional events such as the Kalutan ed Dalan, 101 Ways to Cook Bangus, Gilon Gilon ed Dalan street dancing, Bangus Rodeo, Bangus Sculpting Contest, Pigar Pigar Festival, and the Lechon Contest.
"At this point in time, we will definitely follow any advisory or directive coming from the Department of Health (DOH) or Malacañang. But if the situation becomes stable with the Covid-19, there will definitely be the Bangus Festival," Lim said.
Meanwhile, in nearby Mangaldan town, all public events and gatherings were indefinitely suspended to prevent a possible spread of Covid-19.
Executive Order No. 2020-L-006 series of 2020 signed by the mayor, indicated that the postponed events include the town's fiesta and Pindang Festival which is scheduled in March.
Likewise, Basista town Mayor Jolly Resuello has canceled the holding of their town fiesta next month.
"It pains me and I got emotional when I announced the cancellation before the municipal employees. As I promised during the campaign period, we will be moving the town fiesta from September to the month of April. We've prepared extensively for it, it's just a matter of executing or implementing the plans. But with this current situation and the directives from the Department of the Interior and Local Government and DOH, I have no choice but to cancel the event," he said. (PNA)