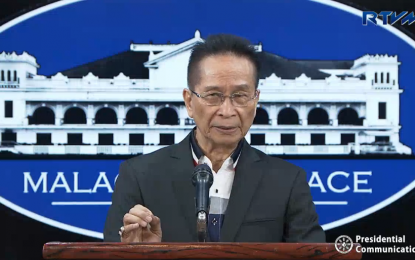 MANILA -- President Rodrigo R. Duterte still trusts embattled Lt. Col. Jovie Espenido, former deputy city director for operations of the Bacolod City Police Office (BCPO), despite the latter's supposed inclusion on the government's drug watch list, Malacañang said on Friday.
In a press statement, Presidential Spokesperson Salvador Panelo said Duterte was convinced that Espenido is "clean" and would never get involved in illegal drugs.
"Lt. Col. Espenido continues to enjoy the trust and confidence of the President. PRRD believes that the reports of his alleged involvement in prohibited drugs are untrue," Panelo said.
Espenido has gained prominence after leading legitimate police anti-drug operations against suspected narco-politicians, such as mayors Rolando Espinosa of Albuera, Leyte and Reynaldo Parojinog of Ozamiz City who were killed in separate drug raids.
Espinosa and Parojinig were both tagged by Duterte as among those politicians with links to the rampant narcotics trade.
Panelo said he believes Espenido is a victim of "black propaganda".
"There appears to be black propaganda waged against Lt. Col. Espenido to besmirch the reputation of the latter in the eyes of PRRD (President Rodrigo R. Duterte) and the Filipino nation, and to derail his unrelenting campaign against illegal drugs," he said.
Espenido was named deputy for operations and drug enforcement unit chief of the BCPO in October 2019 but was relieved from his post on February 5.
He has been transferred to the Office of the Philippine National Police chief three weeks after leading the anti-drug operations in Banago village in Bacolod City.
Interior Secretary Eduardo Año confirmed that Espenido is included on the drug list and would be investigated for possible links to illegal drugs.
Espenido was also tapped as Iloilo City police chief in 2017, but his appointment was withdrawn because of his lower police rank.
He also had brief stints as chief of the Catanduanes and Samar police in 2018. (PNA)