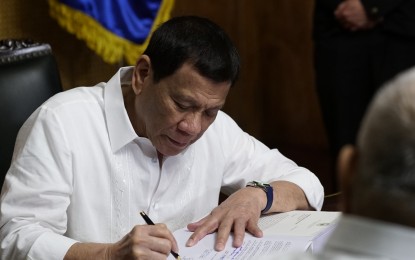 MANILA -- Quality medicines will now be more affordable under an executive order signed by President Rodrigo Duterte on Monday.
Duterte signed Executive Order No. 104 titled "Improving Access to Healthcare through the Regulation of Prices in the Retail of Drugs and Medicines" to impose price regulation through a maximum retail price (MRP), maximum wholesale price (MWP) on certain drugs and medicines.
The EO is expected to cut prices of over 100 drugs by around 56 percent from their prevailing market prices.
Under the EO, "the government acknowledges that expensive healthcare, including costly medicines, pushes a significant number of Filipinos to poverty, discourages them from seeking the appropriate medical treatment, leads to drug and medicine resistance, as well as endangers lives, thereby increasing the morbidity and mortality rates across the different socio-economic classes."
It also recognized that "drugs and medicines contribute to the huge out-of-pocket health expenditure of Filipinos."
The EO lists over 100 drugs and medicines registered under the Food and Drug Administration (FDA) and available in the market including antihypertensives, antidiabetic, anti-cancer, analgesics or painkillers, and anticoagulants or blood thinners among others with MRPs and/or MWPs.
It stated that the MRP of all drugs and medicines shall be imposed on all public and private retail outlets, including drugstores, hospitals and hospital pharmacies, health maintenance organizations, convenience stores and supermarkets, and the like.
On the other hand, the MWP of all drugs and medicines shall be imposed on all manufacturers, wholesalers, traders, distributors, and the like. No public or private entity shall be allowed to sell, reimburse or demand from the public or patients' payment in an amount higher than the MRP or MWP, as the case may be.
Within six months of the order's effectivity, the list of drugs subject of MRPs and/or MWPs shall be subject to review by the Department of Health (DOH).
The DOH, in consultation with relevant government agencies including the Department of Trade and Industry (DTI) and the Philippine Competition Commission, is also directed to study and propose measures which will influence the supply, demand, and expenditure on drugs and medicines.
Drugstores, hospitals and hospital pharmacies, and manufacturers, wholesalers, and distributors have 90 days from the effectivity of the order to dispose their existing inventory stock of drugs and medicine at prevailing prices.
Regardless of the status of existing inventory stock, MRP and/or MWP under the order shall be strictly implemented.
In a statement, Presidential Spokesperson Salvador Panelo described the signing of the EO as part of the Duterte administration's lasting reforms to ensure that all Filipinos can live "decent and comfortable lives."
Duterte has repeatedly said that providing a more comfortable life to all Filipinos is among his administration's top priorities.
Last month, Duterte vowed that to sign the draft EO price caps on drugs and medicine even "twice over" since would be good for the Filipino people.
The DOH submitted last year a proposal for the imposition of MRP and MWP to improve access to affordable medicine to all Filipinos, particularly those that address leading diseases and conditions such as hypertension, cardiovascular disease (CVD), and cancers among others.
However, the Pharmaceutical Healthcare Association of the Philippines (PHAP) objected the price cap, warning that it could kill small retailers and force manufacturers to reconsider plans to launch new medicine in the country. (PNA)