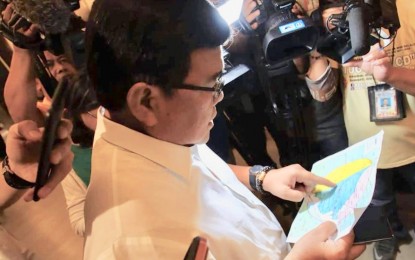 CEBU CITY – With the discovery of poliovirus in water samples from the Butuanon River, which flows from here to Mandaue City, the Department of Health (DOH) in Central Visayas will start locating active cases of polio in the region.
Dr. Jaime Bernadas, DOH-7 regional director, said the DOH central office has directed them to intensify active flaccid paralysis (AFP) surveillance as well as the anti-polio vaccination program to prevent spread of the virus.
Bernadas said in a radio report that the decision to locate suspected polio cases is part of the effort to arrive at a specific action to contain the virus.
"There are no confirmed cases of polio in the region but since this developed, we will be starting our active case finding," he said.
On Monday, DOH Assistant Secretary Maria Vergeire said there is already a possibility of poliovirus infection among residents within the proximity of Butuanon River.
Mandaue City Mayor Jonas Cortes has declared Butuanon River and even Mahiga and Tipolo creeks, as off-limits to the locals as part of precautionary measures to stop the spread of poliovirus.
Bernadas suspected that someone infected with the poliovirus lives in the area and caused the contamination of the water.
"The samples that we retrieved from the river are but just evidence that possibly, a carrier of the poliovirus has polluted the water. And that perhaps is the reason why the samples turned positive," he said.
He pointed out that the carrier may not be suffering from polio disease but is just a carrier of the poliovirus.
Cebu City Mayor Edgar Labella, meanwhile, said both the cities of Cebu and Mandaue are cleaning danger zones, rivers and creeks, including the Butuanon River.
"Sanitation is very important. Second, we continue with the profiling. Third, our vaccination drive. It's going to be a citywide vaccination but we will first focus on the area within the five-kilometer radius," he said.
On Monday, Bernadas and the two mayors held a coordination meeting on their course of action following the discovery of poliovirus in Butuanon River. (PNA)