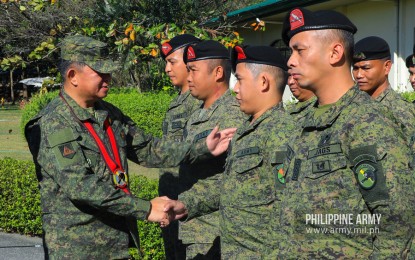 MANILA -- Philippine Army (PA) commander, Lt. Gen. Gilbert Gapay urged officers and enlisted personnel of the First Scout Ranger Regiment (FSSR) to remain more aggressive and active in neutralizing terrorist groups.
"[Let us] remain aggressive in neutralizing the terrorist groups and in conducting peace and development initiatives," Gapay said in his speech during his visit to the FSSR headquarters in Camp Tecson, San Miguel, Bulacan Tuesday.
Gapay also lauded the FSSR's for its efforts in neutralizing communist terrorists and Abu Sayyaf Group personalities in the Mindanao region which include Abu Talha, an ISIS liaison officer, who was neutralized during an encounter between the ASG and the 1st Scout Ranger Battalion last November 2019 in Patikul, Sulu.
"With our core values of honor, patriotism, and duty, together, let us make the Philippine Army a world-class Army that is a source of national pride," he added.
Gapay also called on all FSRR personnel to continue achieving operational and organizational excellence, pursue the PA modernization program, work closely with partners and stakeholders, and uplift the well-being of the Army personnel. (PNA)