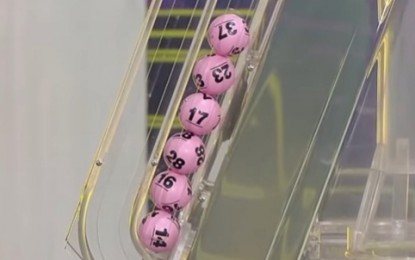 MANILA -- In almost everywhere in the world where people struggle to eat three meals a day, many are breaking their backs and sparing no efforts just to make ends meet.
Filipinos are no strangers to this as every day, people try their luck hoping to get that elusive lotto jackpot prize that may change their lives.
With the Philippine Charity Sweepstakes Office 6/58 "Ultra Lotto" draw on Friday having a jackpot prize of PHP210,804,098, more bettors are expected to put their hopes on 'magic numbers'.
Jubei Calvert, 21, a waiter in Oman said he bets with hopes of winning big.
Should he strike it lucky, he plans to spend his winnings to set up a small business like a grocery store and buy appliances and home stuff.
Meanwhile, call center agent CJ Buenaventura, 20, of Parang, Marikina, believes that "life is a gamble".
"Walang masama kung kukuha ako ng PHP24 para makakuha ng mas malaking salapi (There is nothing wrong with placing a PHP24 bet on lotto on the hopes of hitting it big)," he added.
Should he be the lucky winner, CJ plans to spend part of his winnings on paying up his insurance and sending himself to school and other members of his family.
For 43-year-old Len Yauder, a housewife and "sari-sari" store owner in Parang, Marikina, her motivation is the chance that she would strike it big.
Len plans to use her winnings to set up a bigger business, donate a sum to the Catholic Church and save up the remainder.
For 21-year-old Vince Antiporda, a student in San Mateo, Rizal, he aims to invest his money well once he manages to get the jackpot.
This, he said, will allow him to live a stable and comfortable life.
Meanwhile, 24-year-old Renzo Gabuat, another call center agent residing in Marikina Heights, said there is nothing wrong with betting, adding that he just trying his luck.
If he wins big time, Renzo said he will use the money to set up a business, buy a house and lot, beef up his savings, and get married immediately to raise his family.
Easy money
For many Filipinos, lotto and other types of gambling are their one-shot ticket to a better life.
"Filipinos are trying their luck on winning any amount. Gambling seems to be a part of the Filipino psyche, particularly of those poor people who look for instant fortune or wealth," said Dr. Catherine Laririt, former history and sociology professor at the Pamantasan ng Lungsod ng Maynila.
Filipinos' fascination for lotteries dates back to the country's colonial era. In 1892, Dr. Jose Rizal won a lottery while he was in exile in Dapitan, Zamboanga del Norte.
For Laririt, pure luck is the name of the game.
"Alam ng Pinoy, mahirap kumita ng pera. Pero mas madaling (pumusta) at magsugal. Swerte kapag nanalo ng malaking halaga (Filipinos know how hard it is to earn money but they also know it is easier to bet and gamble. If you win a big prize, then you're lucky)," she said.
In snapshot, it all boils down to the concept of trying over and over again for that one big jackpot.
"Sa taong umaasa sa posibilidad na manalo, kahit makailang beses nang talo ay susugal pa din muli at aasang mananalo (For a person who believes on the possibility of winning, he/she will still gamble again and will vie to win even if he lost many times)," she said. (with reports from Sean Yauder-OJT/PNA)