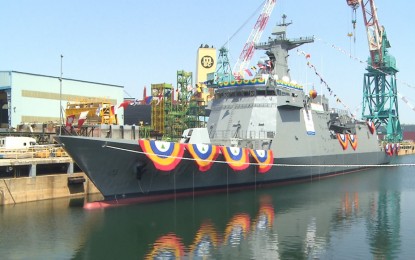 MANILA — The country's first missile frigate, the BRP Jose Rizal (FF-150), will lead the Philippine Navy (PN) contingent to the International Fleet Review (IFR) off the waters of Manila Bay in May.
"We are expecting our first frigate, the Jose Rizal class frigate. Initially, we are expecting that ship to be here by about the third or fourth (week) of April. So if the IFR is May 21, we expect the Jose Rizal-class frigate to lead the convoy and the reviewing ships will be our Tarlac-class landing-dock," PN flag-officer-in-command Rear Admiral Giovanni Carlo Bacordo said in an interview with the Philippine News Agency Wednesday afternoon.
Bacordo said the IFR will be held off Manila Bay near Corregidor and Bataan. Since the Western Pacific Naval Symposium (WPNS) will coincide with the PN founding anniversary on May 20, he said that participating Navy heads will be invited to their Navy Ball.
BRP Jose Rizal is presently conducting its last and sixth sea trials off South Korean waters which is expected to be concluded sometime this week. Once these tests are concluded, the ship will start preparations to go home.
The IFR is one of the highlights of the WPNS which the Philippines is hosting for the first time from May 19 to 21.
The WPNS aims to increase cooperation and the ability to operate together, as well as to build trust and confidence between navies by providing a framework to enable the discussion of maritime issues of mutual interest, the exchange of information, the practice and demonstration of capabilities, and the exchange of personnel.
Aside from the Philippines, other WPNS member nations include Australia, Bangladesh, Brunei, Cambodia, Canada, Chile, China, Colombia, Fiji, France, Indonesia, Japan, Malaysia, Myanmar, New Zealand, Pakistan, Peru, Singapore, South Korea, Thailand, the United States, and Vietnam.
Meanwhile, Bacordo said they are hoping that President Rodrigo R. Duterte, as the commander-in-chief, would grace the event as of guest of honor.
Meanwhile, PN public affairs office chief, Lt. Commander Maria Christina Roxas said 13 nations have so far confirmed attendance to the WPNS while another 15 countries committed to send ships to the IFR as of Wednesday.
Bacordo earlier said he estimates at least 24 navies and their representatives to attend both events. (PNA)