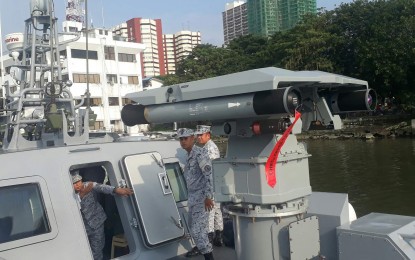 MANILA -- The Philippine Navy's three latest multipurpose attack craft (MPACs) are expected to be fitted with missile armament by the last quarter of this year.
"Our schedule for the fitting of the (Rafael Advanced Defense Ltd.) Spike-ER (extended range surface-to-surface missile system) is in the fourth quarter of 2020," Navy flag-officer-in-command, Rear Adm. Giovanni Carlo Bacordo, said in an interview with the Philippine News Agency Wednesday.
These were delivered and activated by the Navy on September 23, 2019, bringing the number of MPACs in PN service to 12.
At present, three of these MPACs are already armed with Spike-ER missiles.
Asked if there are plans to arm all attack craft acquired earlier with Spike-ER, Bacordo said there is none but there are initiatives to equip all of these boats with mini-Typhoon light-weight remote-controlled weapon stations (RCWS) and are capable of being fitted with .50-caliber heavy machinegun and or a lighter 7.62mm machine gun for additional firepower.
"Not all would be armed with (Spiker-ER) missiles but all would be fitted with the mini-Typhoon RCWS," he added.
The Spike-ER system, which arrived in the Philippines in April 2018, is the PN's first missile weapon capable of penetrating 1,000-mm (39 inches) of rolled homogeneous armor and has a range of eight kilometers.
These MPACs are capable of running at a speed of 30 to 45 knots. (PNA)