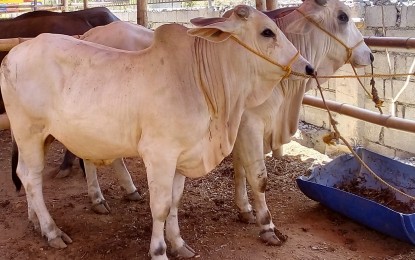 BACOLOD CITY – The Negros Occidental provincial government has tapped the expertise of a homegrown farmer to develop a local beef brand and position the province as the cattle production center in the Visayas.
Luis Francisco Martin, both a cattle raiser and a sugarcane planter, will act as the Capitol consultant for cattle and farm diversification and tourism, with a fee of PHP1 per month from February 17 to December 31 this year.
Dr. Renante Decena, provincial veterinarian, on Thursday said the province is encouraging sugarcane planters to diversify into cattle production and promote farm tourism to maximize farm income.
This is one of the keys to achieve such direction, he added.
The Provincial Veterinary Office (PVO) said there has been slow growth in the production volume of cattle in Negros Occidental, which shows the need to adopt measures to increase animal population and sustain the overall growth of the industry to answer the beef requirement of the Negrenses.
"There is a need for Mr. Martin's expertise to achieve the goal of making the province as the cattle production center in the region and put in place post-harvest facilities as a key to developing and promoting the Negros Beef," it added.
A known practitioner of organic farming and farm tourism, Martin is currently the president of the United Cattle Raisers Association in Negros Occidental and Visayas and director for Visayas of the Federation of Cattle Raisers Association of the Philippines.
As a consultant, he is expected to provide services like developing plans and strategies, particularly on cattle and farm diversification and tourism, given his sufficient knowledge and technical expertise in cattle breeding, fattening and marketing, pasture development and management, sugarcane diversification and integrated farming. (PNA)